You caught horny housewife Dana DeArmond cheating on her husband, and she'll do anything to keep you quiet in Dana & the Dick from MilfVR!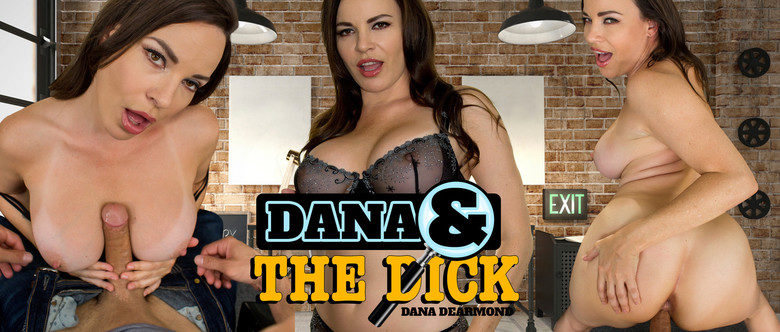 Dana & the Dick
Starring – Dana DeArmond
Length – 52 min
Studio – MilfVR
Devices – Gear VR, Oculus, Smartphone, Playstation VR, Vive, Daydream
The Girl
Dana DeArmond is a well known porn star making her MilfVR debut in this scene. This busty brunette is known for intense hardcore sex, and she certainly won't disappoint you here. She really nails the cheating housewife role, and looks great while doing it. I love her beautiful curves, including her new boobs which look fantastic. Dana is a perfect addition to the MilfVR roster!
Virtual Sex with Dana DeArmond
This scene starts off with you in your office sitting at your desk. Dana DeArmond walks in, looking pretty hot in a tight leopard print dress that shows off all her curves. She found out that her husband hired you to follow her around and catch her cheating. Once she see's you've got proof, she insists that her husband cannot find out. She's willing to pay you double what he paid you, and she'd be willing to do you a "favor". Who could refuse that offer?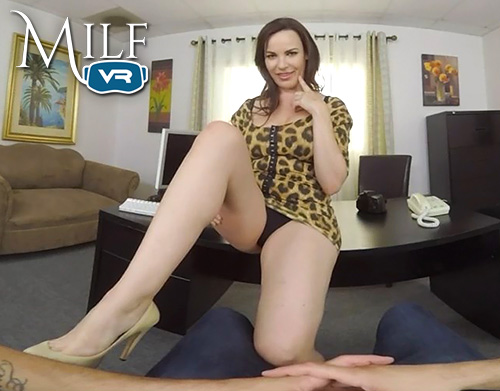 She hikes up her dress and spreads her legs a bit, so you can get a good look at her panties while you consider her proposal. This naughty mommy can be very convincing! She starts pulling down her dress, revealing her big tits in a sexy bra. She grabs your hands and lets you squeeze them. I love seeing big tits in VR and these look phenomenal up close! I think we've got a deal!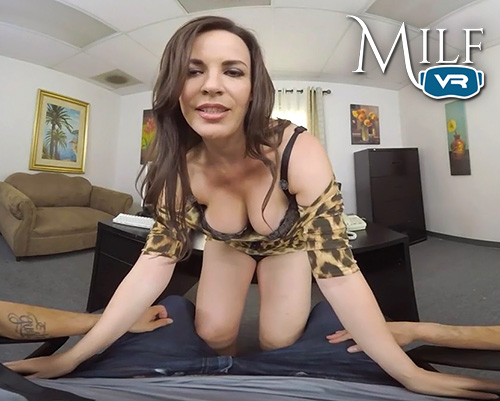 Dana DeArmond gets down on her knees and unleashes her big titties! She lets you play with them a bit before she starts undoing your pants. As if you're not convinced already, she's going to use her mouth to persuade you even more!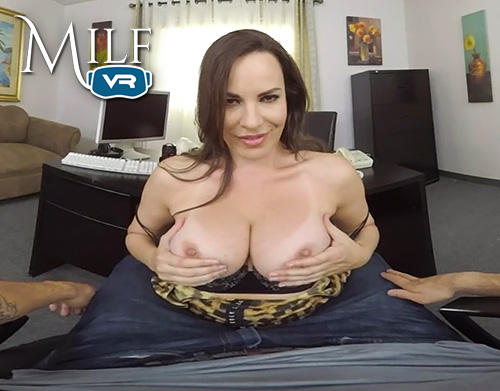 She really seems to love sucking and stroking your big dick, and even deepthroats you a few times. She then puts your dick between her big tits so you can titty fuck her. What a great visual in virtual reality!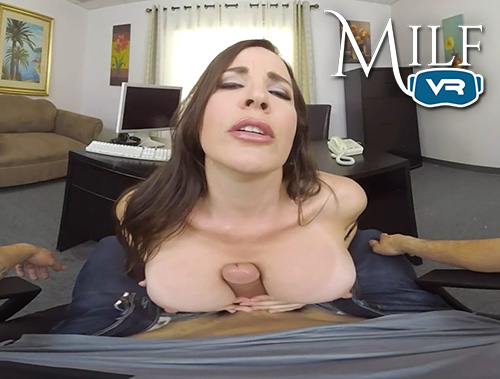 Dana really goes to town on your dick, while confessing what an unsatisfied nympho she really is. Damn she's good! She then climbs up on your desk and starts rubbing her pussy while you watch! This doesn't last too long though, as she's desperate for dick!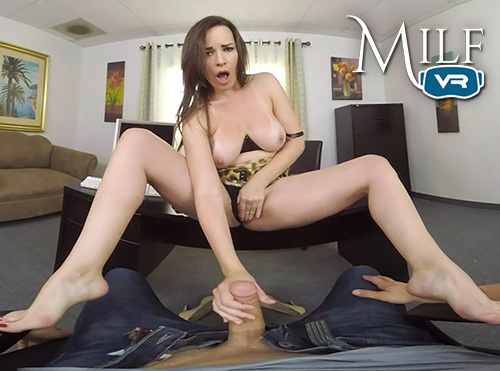 Now the rest of her clothes come off and she backs that big MILF booty right up on your lap. You get to finger her wet pussy and even give her a few spanks before she slides your cock inside her. Watching this curvy beauty ride you in reverse cowgirl is amazing! This desperate housewife loves your dick!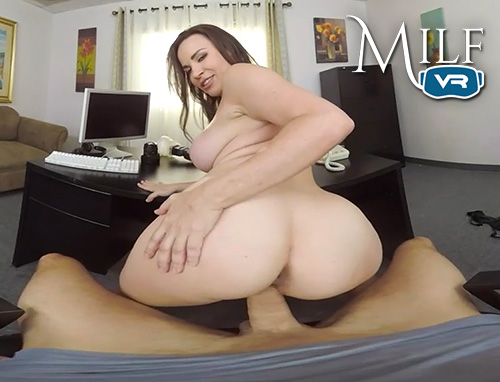 Dana climbs off of you and switches around to cowgirl. You get her big tits right in your face now, which is just amazing! I could watch this all day! She rides your hard cock in this position, with some great eye contact as well. She really connects well with the camera and genuinely seems to love fucking you.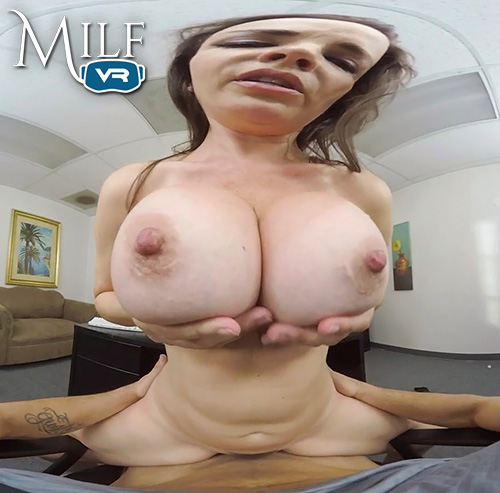 She continues riding you while she rubs her clit, and it's not long before she's cumming all over your dick! Needing a quick break, she hops off and tastes your dick again, while telling you how much she loves fucking you! She's a great dirty talker, and doesn't go over the top with it, the way a lot of porn stars do.
Next she puts her big booty right in your face! She spreads for you and begs you to lick her butthole. Hopefully you're into this, because it's very close. She does have a nice butthole though, so it's all good. Don't worry, you get a great view of her pussy too!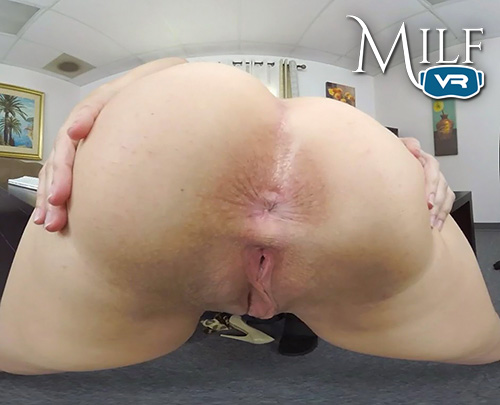 The camera quick cuts to Dana DeArmond bent over your desk, ready for you to pound her doggystyle! She's really into this position, and I love watching her big butt jiggle as you thrust away. Things even get a little rough after a few minutes, with a bit of choking as you pound her pretty hard. She loves every second of it, and begs you not to stop!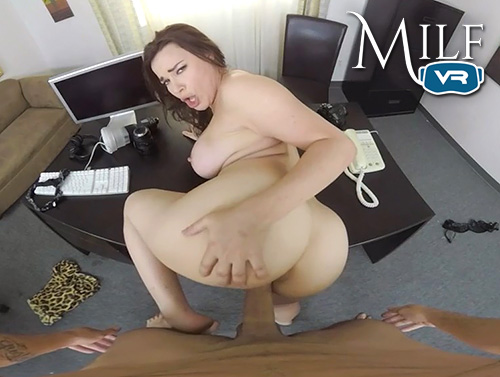 After a pretty intense orgasm, Dana flips over and you continue to fuck her on top of your desk. With her legs spread, you get a great view of the penetration here. She rubs and slaps her clit a little and before you know it she's cumming all over your dick again! She really cums hard in this scene, these orgasms must be real!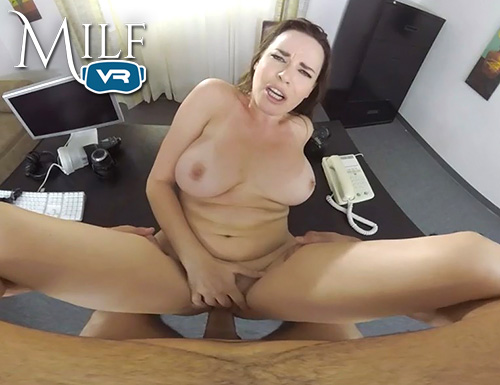 Still not satisfied, you keep pounding away at Dana DeArmond and her wet MILF pussy. After a couple minutes, she's cumming even harder than before. WOW! These are some of the most intense orgasms I've ever seen in VR porn! At this point she is sweaty and shaking. I love it!
At this point Dana sits up and gets right in your face for some close up missionary. You still get a great view of the penetration though, and now you can really see the overwhelming pleasure in her face and she cums for you again! You can also hear just how wet her pussy is. WOW!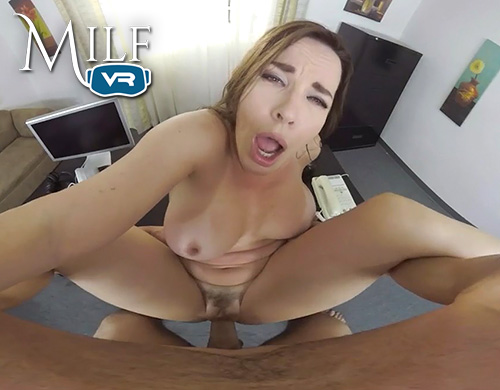 The sex continues in missionary as Dana DeArmond begs you to cum inside her pussy. Before you get a chance to cum though, she has another huge orgasm and even squirts!! Wow, just when I think this couldn't get any hotter! Now it's your turn, you cum inside her pussy as she lays on your desk quivering. She is finally spent.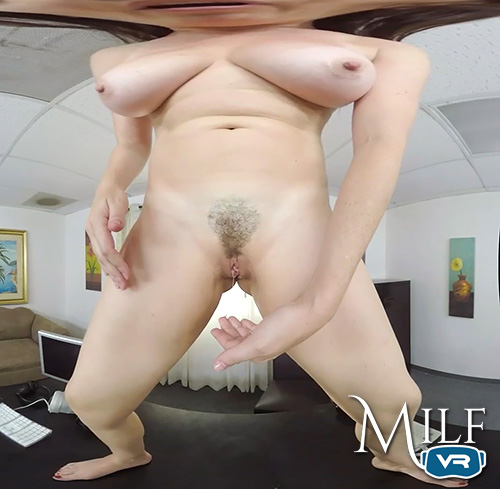 Dana stands up on your desk and shows off the messy creampie you left her with. She is a sweaty satisfied mess now, and she couldn't look hotter! She says she wouldn't mind if you kept following her around, so maybe we'll get a chance to hook up with this slutty housewife one more time!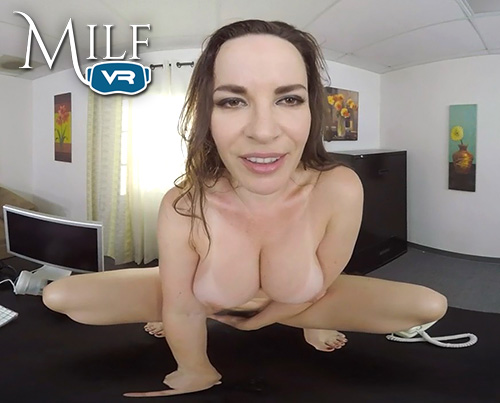 Conclusion
I really wasn't expecting too much from this scene, but I was very pleasantly surprised. The cheesy plot turned out to be way more of a turn on than I had anticipated. Dana DeArmond really performs well as an unsatisfied cheating housewife with just a little bit of crazy. Dana is known for more rougher and extreme type porn scenes, and things do get a little rough here in this VR scene. The huge and intense mega orgams were a very nice surprise, and genuinely seemed to be real. If you're into sweaty intense sex with a curvy nympho MILF, you're going to love this Dana DeArmond scene!