Ashley Adams lost a bet, and it's time to pay up. You tell her to wash your car, but this dirty girl has a much better idea in this scorching hot VR scene!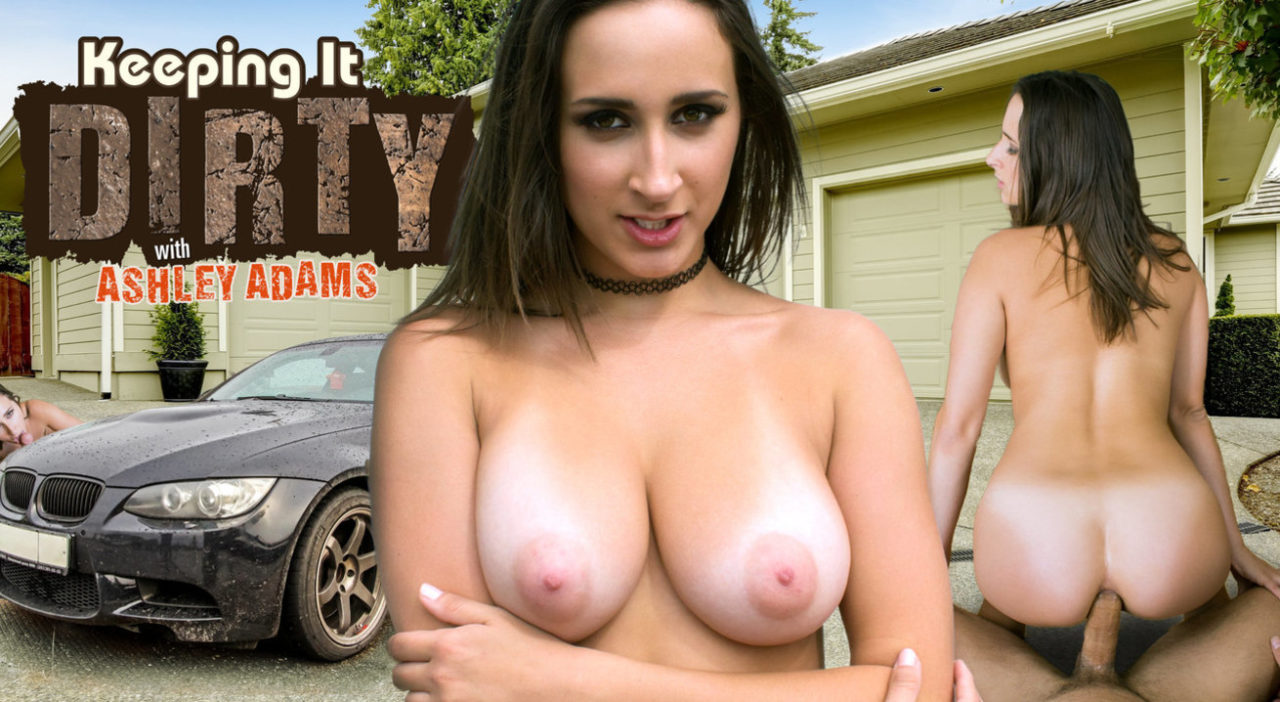 Starring – Ashley Adams
Length – 1 hr 4 min
Studio – WankzVR
Devices – Gear VR, Oculus, Smartphone, Playstation VR, Vive, Daydream
The Girl
Ashley Adams is looking hot as fuck in this video! She starts out in a skimpy little bikini that really shows off her big natural tits. When she get's naked, you'll see she's not just a pretty face, but she's got a great body too! Her acting is pretty decent as well. You'll really believe she's not happy about losing the bet at first.
The Action
This scene starts out with your friend Ashley coming outside in her skimpy bikini. Having just lost a bet, she's supposed to wash your car, but she's a dirty girl and would much rather suck your dick! She does her best to persuade you by taking off her top and getting all wet and soapy! It's clear she really doesn't want to wash your car!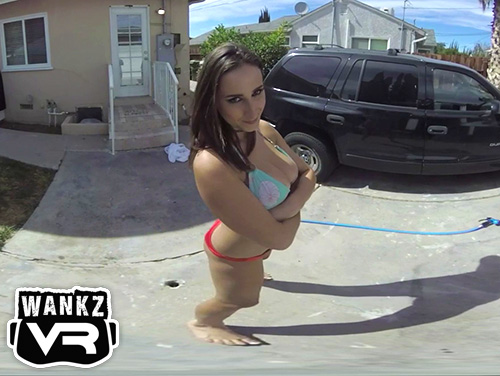 The action heads inside and Ashley gets right down on her knees and gets down on your cock. She might be pissed about losing this bet, but that doesn't stop her from giving a great blowjob! Don't worry, she does warm up to you and seems to get turned on by you staring at her tits.
Now it's your turn to pleasure her, as she gets her pretty pussy right up close to your face so you can eat her out. You must have done a great job getting her warmed up, because now she's ready to hop on your dick. I love the cowgirl position in this scene! Watching her big boobs bounce in your face as she grinds on you is what virtual reality porn is all about! I loved every minute of it!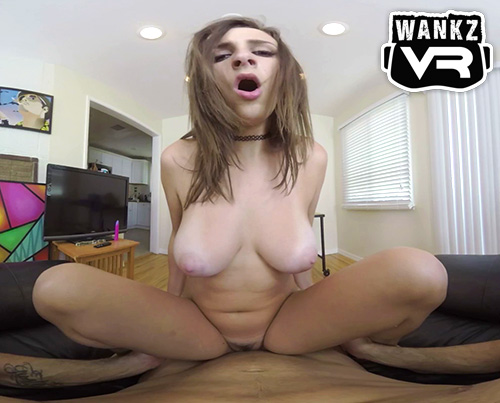 "I can't believe your dick is in my ass!". 30 minutes ago you were just friends, and now your dick is in her tight little ass! She definitely enjoys it, and it makes for some great POV anal action!
Next you're back in her pussy and taking her doggy style. I love how she fingers her own ass while you fuck her! This is just for a few minutes, then she wants you back inside her ass!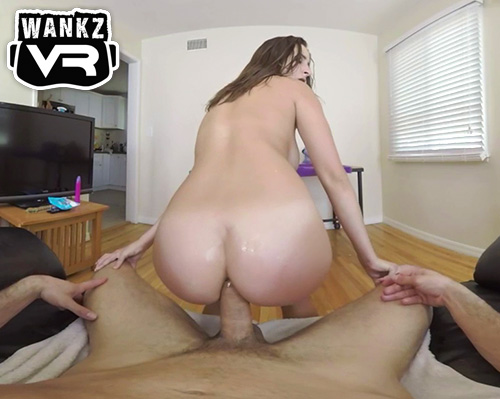 From there you move to missionary on the table, and it's not long before she's cumming all over your cock! The fun doesn't stop there, you keep fucking her on the table and she cums a few more times! The hot sex finally ends with you giving her a nice creampie in her tight pussy! She then promptly kicks you the fuck out of her house! So worth it!
Conclusion
This was a great scene! I really loved the acting here with her being reluctant to fuck you at first and being unhappy about losing the bet. She really gets into it when the action starts, and from there it just doesn't stop. This scene really has it all: a hot girl, great positions, big boobs, anal, and creampie! What more can you ask for?
Rating: