Gina Valentina gets wet and wild in this hot new VR porn scene in a bath tub!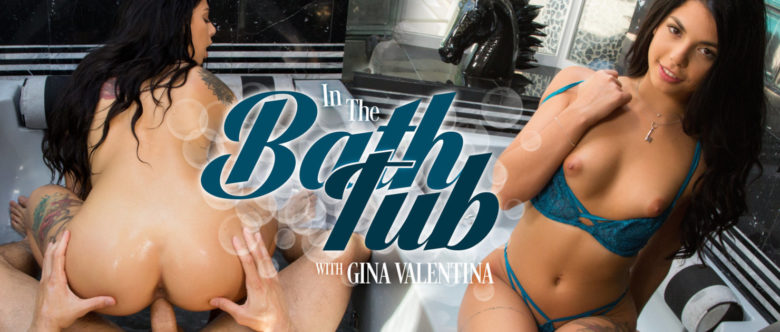 Starring – Gina Valentina
Length – 39 min
Studio – WankzVR
Devices – Gear VR, Oculus, Smartphone, Playstation VR, Vive, Daydream
The Girl
Gina is a hot Latina porn star well known in the VR porn genre. She's been in several WankzVR scenes, and has yet to disappoint according to the site's members. VR porn fans love her, and it's easy to see why. She's super cute, got a killer body, and has a very sexual personality.
Virtual Sex with Gina Valentina
The scene starts off with you in the bath tub. Gina Valentina comes in wearing her sexy little bra and panties. Right away she starts rubbing your dick and then climbs into the tub with you. No complex storyline here, we're getting to the good stuff right away!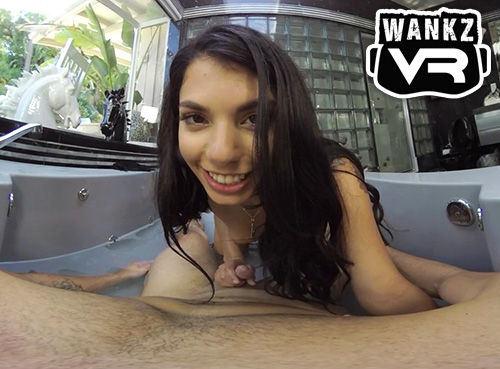 Gina strips off her top and starts stroking your cock. She does a little dirty talking before taking off her panties and grinding her sweet ass on your dick. She then gets back on her knees and starts going down on you. Lots of great eye contact here, and this girl has some beautiful eyes!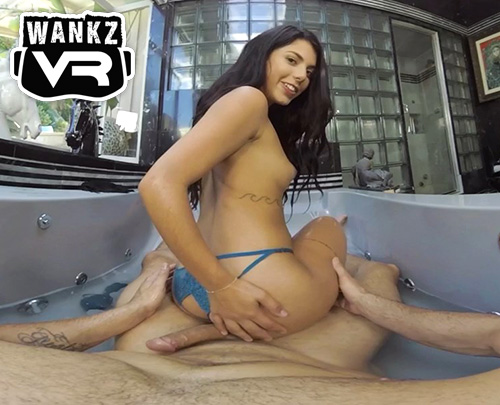 Next Gina sits back and starts rubbing your dick with her feet and hands. She really loves playing with your cock! Now you're fully hard, and that's got her turned on! She starts rubbing her pussy while she blows you.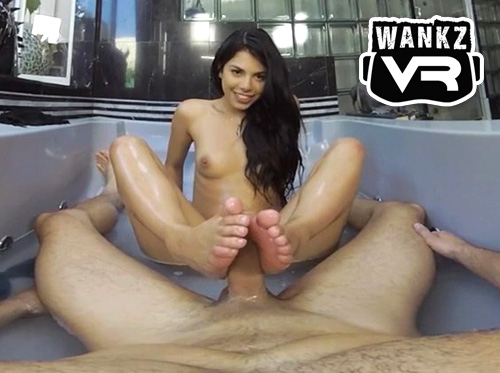 Now that she's all wet, she sits on your lap and starts grinding her hairy pussy on your cock. A full bush isn't my preferred style, but I have to admit it looks good on her. She's really getting into this, and you're not even inside her yet! Finally she reaches back and guides your dick into her wet pussy, and right away you see a look of pure ecstasy on her face!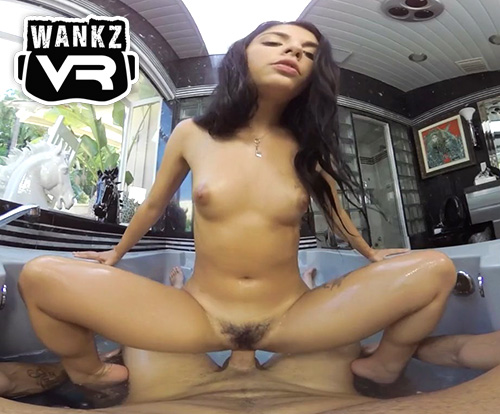 Gina's really riding your dick now, with her perky titties right in your face! I love this view so much! You can see it in her eyes she's loving every second of this! She grinds and bounces on your dick for a good while, then hops off to take a break and suck your dick again.
Now it's time for some 69 action! Gina turns around and puts her perfect ass and pussy right in your face, so you can have a taste while she devours your dick! What a sight! This doesn't last too long though, she needs you back inside her! She sits back on your dick, this time facing away from you in reverse cowgirl. Watching her juicy booty bounce on your dick is absolutely amazing!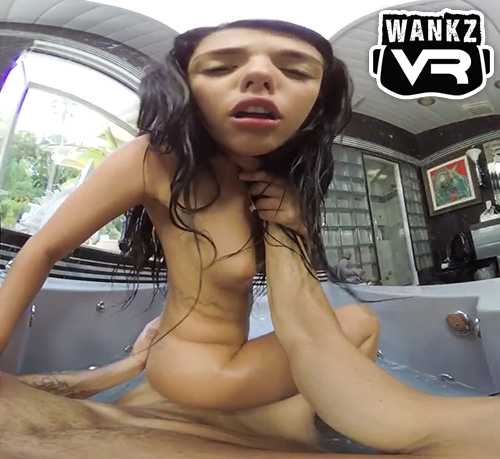 She hops off again and gets back into the 69 position from a few moments ago. This time though, you're spreading her pink pussy and fingering her while she jerks you off with both hands. After you play with her pussy a bit, Gina Valentina is right back to riding your dick! She just can't get enough! It even gets a bit rough with some choking too, which is always nice to see. Intense sex is so much better in virtual reality!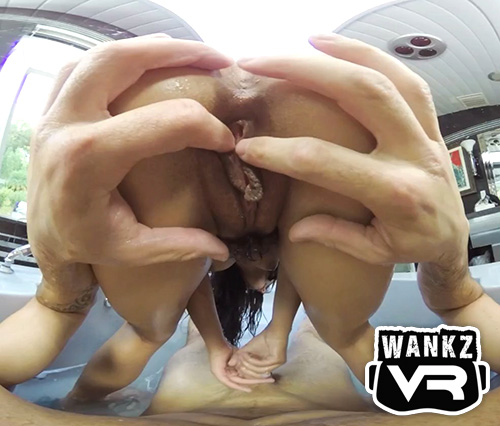 Gina spins around and spreads her legs so you can get a great view of your dick inside her pussy! This is a bit of an awkward position in a tub, so it doesn't last too long. Don't worry though, she really wants you to fuck her from behind anyway.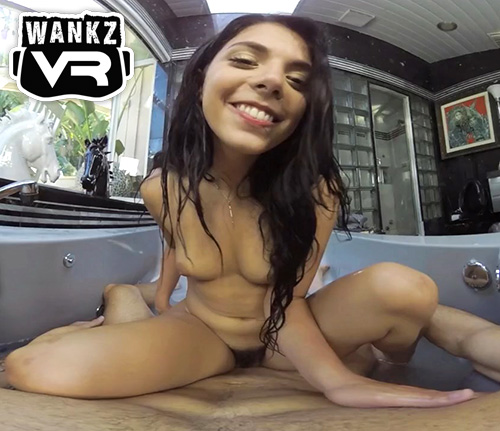 You both get out of the tub and Gina bends over so you can fuck her doggy style. Another position that gives you a great view of her amazing ass! She looks back at you over her shoulder and begs you to keep fucking her. I love this, especially in VR porn! So intimate and intense! If you look to the right here, you can even see her reflection in the mirror as you pound away! A nice touch.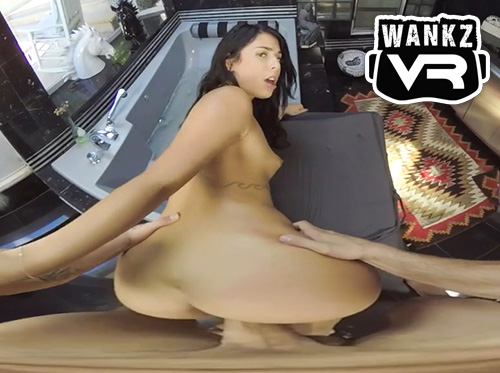 After you make her cum all over your dick, she turns around and blows you again. This time she even deepthroats you a bit with some nice gagging sounds. Then Gina spreads her legs again, and says she wants you to cum inside her pussy! Now that's what I like to hear!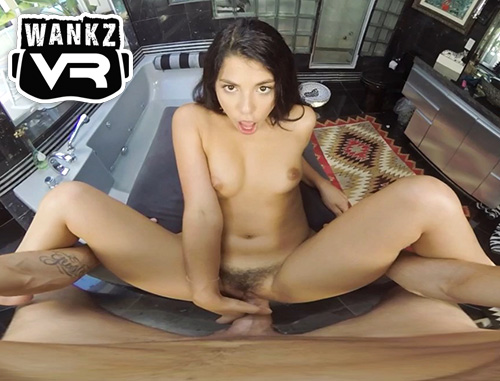 You start fucking her in missionary and right away she is moaning and her eyes roll back in her head. This girl loves your dick! She cums again, but this time you're not stopping to give her a break. You keep right on fucking her hard and deep!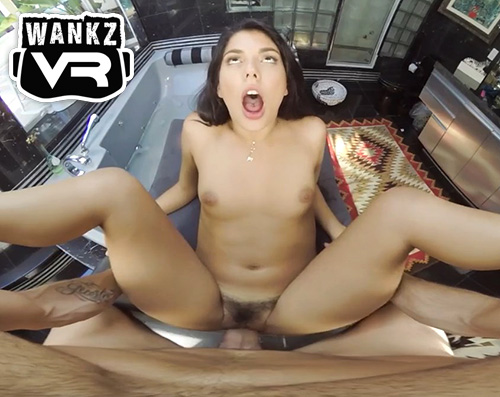 Gina cums again, and with a big smile on her face she tells you it's now your turn to cum inside her! You fill her up with your cum and she absolutely loves it! She lays back and spreads her legs so you can see the mess you made! She even spreads her pussy for you and tries to squeeze out more of your cum. If you like VR creampies, you won't be disappointed with this scene. Hell, I can't see anyone being disappointed with this scene!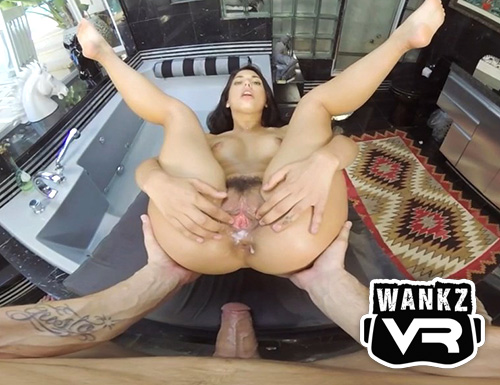 Conclusion
This bath tub scene was intense! Gina Valentina is amazing as always. She really is a VR porn all-star at this point. I love that there was no complex plot, it just a hot girl that wants to fuck you in the tub, so she does. It makes for a slightly shorter scene than we're used to from WankzVR, but they usually run pretty long so no worries there. Top notch quality and production as always from this studio.
Rating: