This pair of stunning brunettes goes wild for you in this incredible intense VR threesome!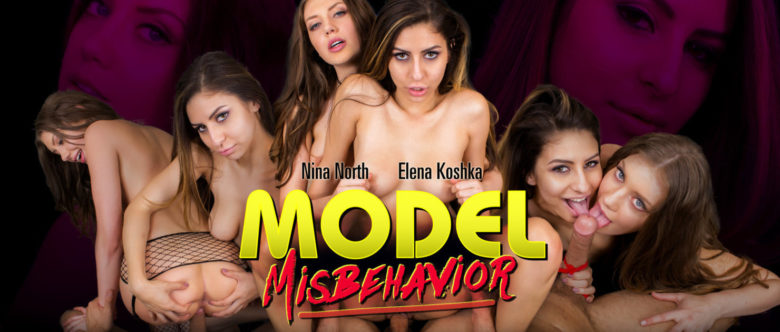 Model Misbehavior
Starring – Elena Koshka and Nina North
Length – 83 min
Studio – WankzVR
Devices – Gear VR, Oculus, Smartphone, Playstation VR, Vive, Daydream
The Girls
Elena Koshka is a very cute brunette. Seeing her in the sexy black lingerie in this scene was amazing! Her tall skinny body is perfect for a potential lingerie model. Her ass is incredible!
Nina North is your sexy assistant dressed in a short tight dress and of course the obligatory glasses. She may be a bit reluctant at first, but she really turns out to be the naughtier of the two!
The VR Threesome
You're a lingerie designer looking for your next model, with the help of your sexy assistant Nina North. Every model you've seen so far has been a disappointment, but there's one girl left to see, Elena Koshka. Turns out she's a huge fan and right away makes it very clear she'll do anything to work for you. Elena's got you all worked up, so now while you wait for her to try on your lingerie, you start groping Nina. Right now she's not into it, saying you're being inappropriate, but I have a feeling we'll change her mind!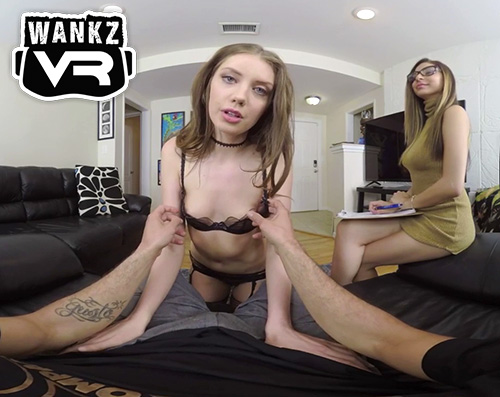 Elena comes back in and starts modeling the lingerie for you. She looks amazing! If you're into the skinny porn star types, you're going to love her. She's quickly back on her knees rubbing your crotch again, and unlike Nina, is more than happy to let you feel her up. Elena is so hot, she even talks Nina into showing off her sexy panties for you. This VR threesome is really starting to heat up!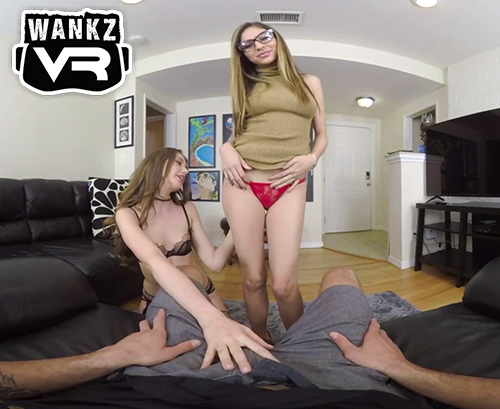 Nina is definitely the more shy and reserved one of the two, but now that Elena has her all hot and bothered, she's now on top, grinding on your lap and kissing you! After she admits to having always fantasized about you, Elena lifts up her dress and reveals her amazing natural tits. Wow! Not too big and not too small, they're just right. The two girls start kissing and Elena just can't keep her hands off of Nina! So far this is really hot!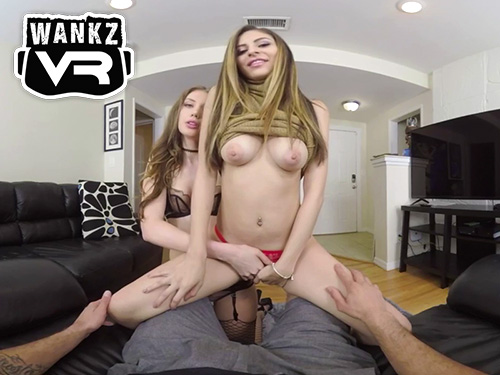 The two girls strip down a bit more before Nina pulls out your big dick and starts sucking it, then gives Elena a turn. Whatever reluctance Nina was feeling about this is defintely gone now, and I'm just fine with that! These beautiful girls spend a good amount of time blowing you, while touching and kissing each other. Very hot!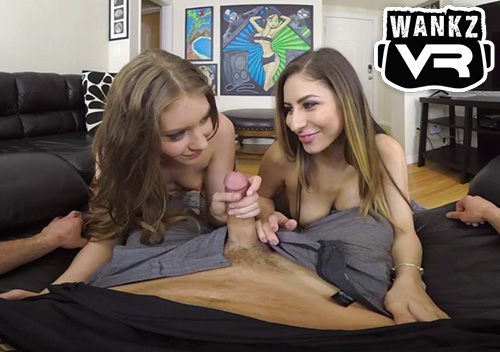 Now it's time for the really good stuff. First it's Elena's turn, she climbs up on your lap and starts riding your dick. Right away she's loving it, and seeing Nina right behind her just makes it even better! Elena is definitely loving your dick inside her, and with the help of Nina rubbing her clit, you have her cumming in no time!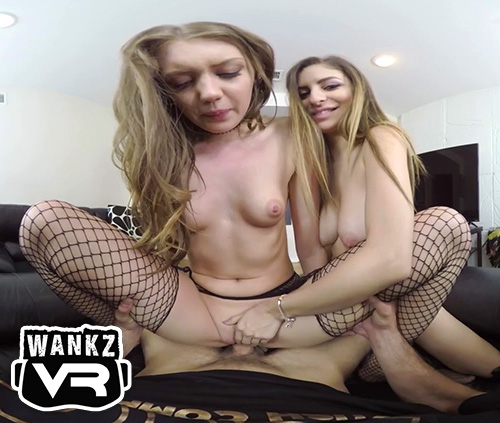 Next up it's Nina's turn to ride, which is great because her bigger tits look amazing bouncing up and down right in your face! I love that she's still got her sexy panties on, just pulled to the side. That's a nice touch. Elena is behind her rubbing her boobs and clit while Nina grinds fast and hard on your dick. These two really make quite the team!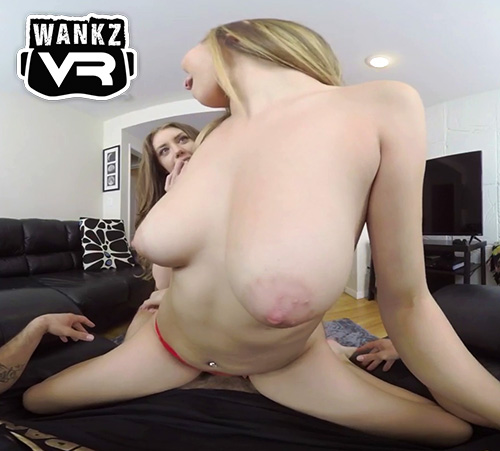 Nina then switches to reverse cowgirl and fucks you while Elena plays with her. Watching these girls enjoy each other while you bang them is the perect example of why VR porn is so great! Now it's Elenas turn to sit on your dick! Nina North might have the better tits, but in this position it's clear Elena Koshka has the better ass! Now Nina climbs up and starts fingering herself right in your face while Elena is cumming all over your cock. This VR threesome just keeps getting better!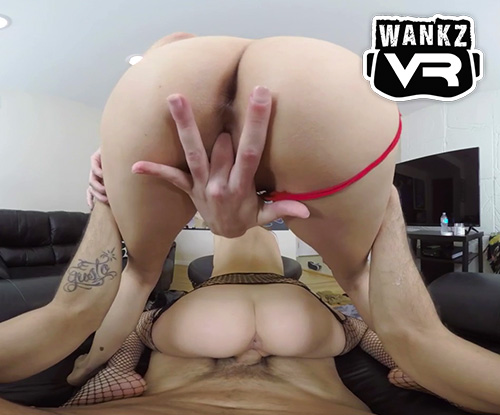 After all that we must be done right? Wrong! Now you're right back to fucking Elena, this time in missionary position. The view here is great, and the girls are loving this too! After a while Nina sits on Elena's face, and Elena tries to eat her out but she starts cumming hard and can't seem to concentrate. Perfect time to give her a break and let Nina get some more dick!
Now Nina is getting fucked missionary while she gets felt up by Elena. Have I mentioned how much I love seeing Nina's tits bounce around? Elena then climbs up overtop of Nina and gets her pussy licked while you fuck Nina to another orgasm.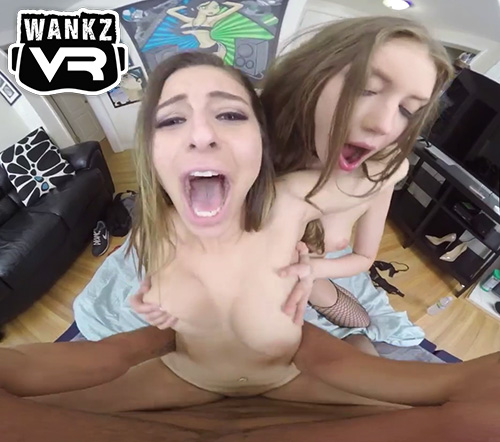 Next it's doggy time with Nina while Elena rubs her ass and kisses your stomach. I love the intimacy between you and the two girls. It's really intense. Elena turns aronud and starts fingering your pussy right in your face as you keep fucking Nina. After yet another orgasm, the girls switch around and Nina helps you slip your dick into Elena. Nina then gets infront of Elena and sticks her ass up in her face, so Elena can eat her out as she gets fucked. The girls are absolutely loving this, and things get so intense it even shakes the camera a bit.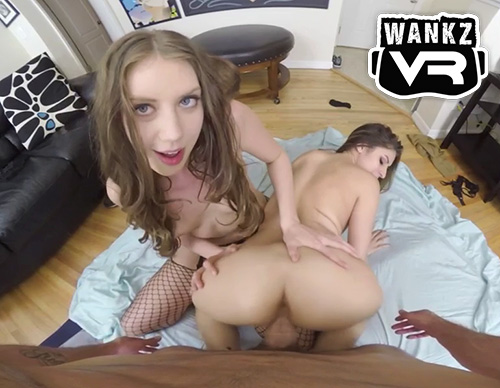 The doggy style sex with Elena Koshka continues with Nina North laying underneath her in a 69 position. This doesn't last too long though, as everyone starts cumming. You leave a nice creampie inside Elena's pussy, which of course drips down all over Nina's face! Nina gets right up in there and licks up the rest! Wow! What a great ending to this intense VR threesome!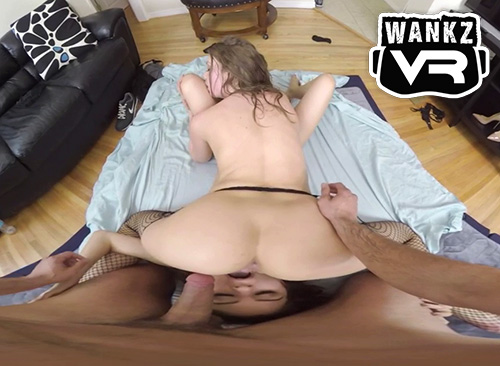 The fun might be over for you, but the girls still can't keep her hands off each other! Nina continues to lick and finger Elena, and even licks her ass a bit. What a dirty girl she turned out to be! The girls are a sweaty hot mess, and we all agree that Elena gets the job!
Conclusion
WankzVR really hits it out of the park with this VR threesome scene! Both Elena Koshka and Nina North were super hot and really enthusiastic with this scene. The acting was solid, even though the story parts were minimal. They both looking very hot, and the sex was absolutely incredible. Seriously, it just kept getting more and more intense! Not only would I recommend this scene, I definitely intend to watch it a second time. The only small criticism of this scene would be that it's so long. On one hand it was so great I didn't want it to end, but on the other hand, who can last that long with these 2 horny hotties?