Hot wife Sadie Holmes is over cleaning your pool. With a little persuasion, you get her out of her to strip down to her bikini. With a little more persuasion, you get her to cheat on her husband and fuck you right there by the pool!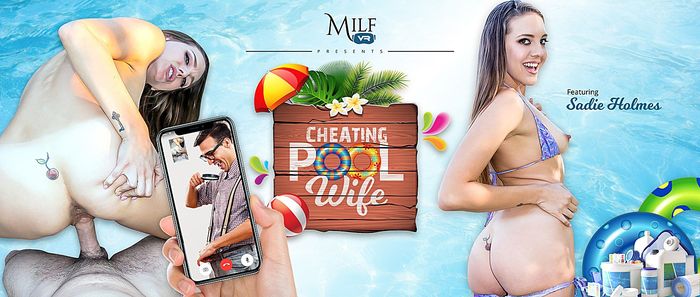 Sadie's performance is absolutely incredible in this scene. She really nails the cheating hot wife role, and it's hot as fuck! There's also a great part where she calls her husband on Facetime and makes him watch her suck and fuck you! If you think you're going to make it to the end before you cum, all I can say is good luck!
Fun Fact: It's her actual real-life husband on Facetime during the scene while she's riding you and sucking your dick. For real! It really takes the intensity of this scene up to a whole new level! Seriously, we're pretty sure this is a first for VR porn. Well done MilfVR!
Cheating Pool Wife
Starring – Sadie Holmes
Length – 46 min
Studio – MilfVR
Devices – Gear VR, Oculus, Smartphone, Playstation VR, Vive, Daydream