Stella Cox is a naughty photographer who just can't seem to focus on anything but YOU!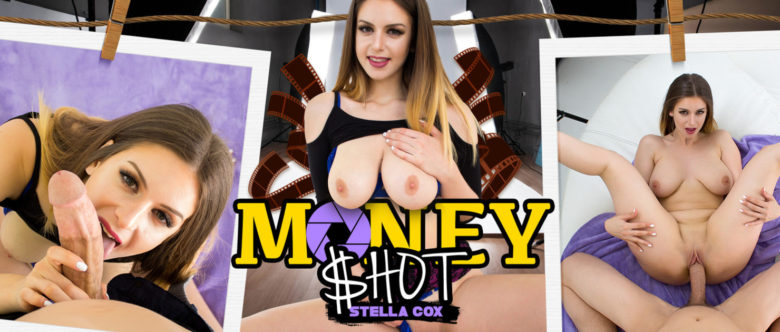 Money Shot
Starring – Stella Cox
Length – 48 min
Studio – WankzVR
Devices – Gear VR, Oculus, Smartphone, Playstation VR, Vive, Daydream
The Girl
Stella Cox is a cute brunette porn star with a sexy British accent and some incredible big natural boobs! She's got a great ass too! I love a skinny girl with curves! Her acting as a photographer wasn't necessarily the greatest, but her intensity during sexy time was phenomenal. She always brings it in her scenes, and this one is certainly no disappointment.
Virtual Sex With Stella Cox
This WankzVR adventure starts with you facing some bright lights. It's a photoshoot! In fact it's your first photoshoot, and you've got the adorable Stella Cox as your photographer. She's really happy to be working with you, and it's clear right away she really thinks your hot. She's so preoccupied with you that she really can't seem to focus on taking photos. After a bit of groping, she informs you that it's actually a nude photoshoot, so you'll need to strip down. So you don't get uncomfortable, Stella offers to take off some of her clothes too!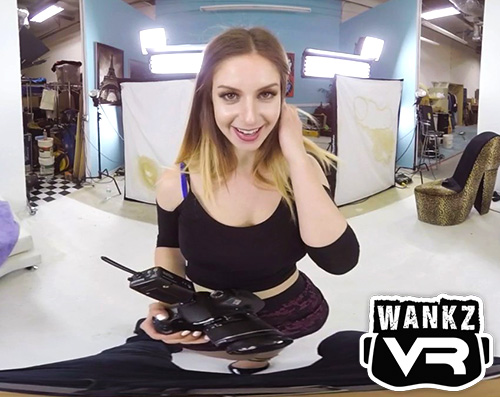 Stella lifts up her shirt and we get to see her huge boobs in a blue bra. These are much bigger than you might expect with a girl her size. She helps get you out of your pants and is very surprised by your big dick! She likes it so much she starts taking pictures of it! It's pretty clear at this point that she's not a great photographer, but I suspect she's got some much sexier skills anyway.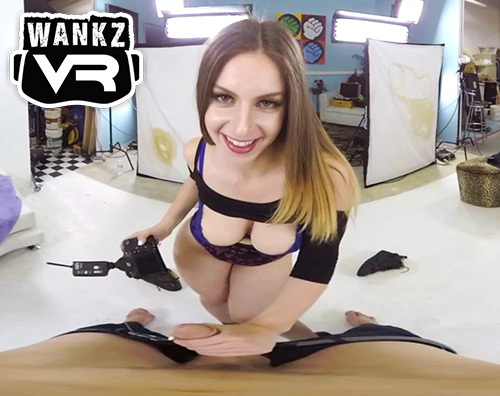 Rubbing and stroking your cock, Stella admits it's got her really horny right now. She hands you the camera and asks you to take some pictures of her sucking your dick. Quick cut to her mid blowjob, it would have been nice to this start out, but at least she looks hot doing it. That's only for a minute though, it's time to get her out of that bra and unleash those huge tits!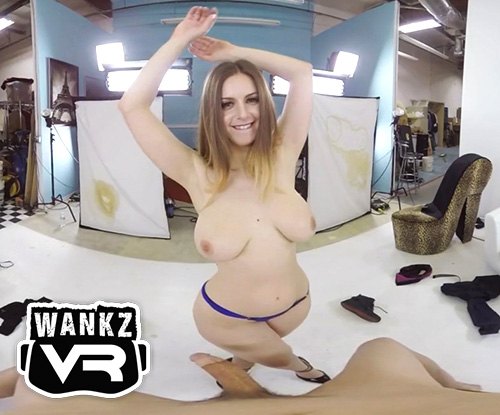 After giving you a good look at her big natural boobs and her sexy ass, she is back down on her knees sucking you. She even tries deepthroating you a few times, but has a bit of trouble with that big thick dick. Again, this only lasts for a few minutes, and now she's bent over infront of you and spreading her ass wide in a standing doggy position. You slip your dick inside her pussy and right away she is loving it! You get a great view of her ass in this position, and she's looking back at you over her shoulder a lot as well, which works really well!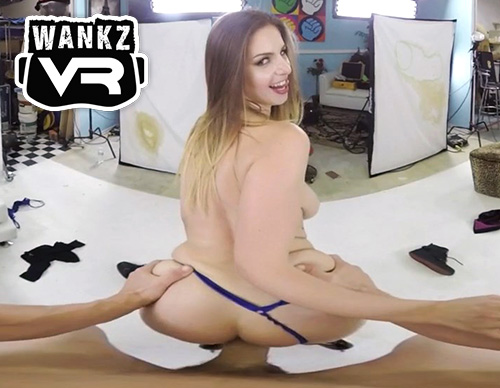 Next she's on her hands and knees for some doggy style pounding. You spread her ass and get a great view of your dick going in and out of her tight wet pussy! You and Stella take turns fingering her ass as you fuck, which really gets her cumming! The action here gets pretty intense, and even has some great hair pulling as well!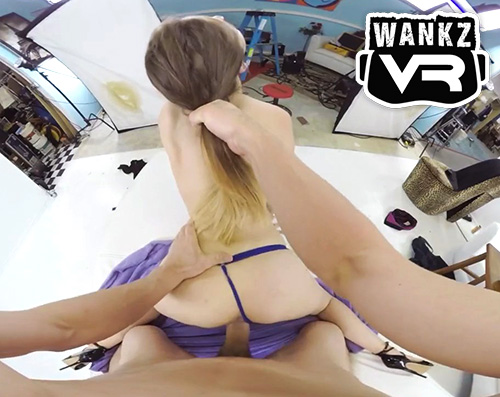 Taking a break, she lays down on her side and sucks your dick while you watch her play with her pussy. She also poses for some sexy pictures for you. She's definitely a better model than a photographer.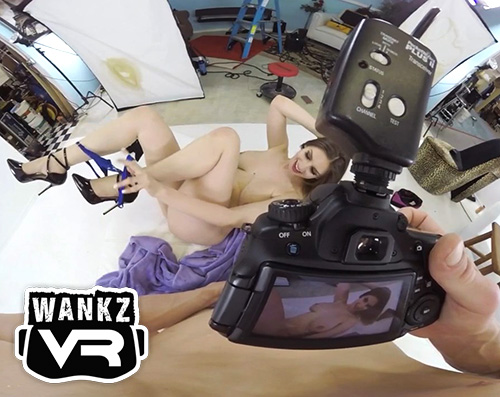 Ready to get back to it, she lays down and spreads her legs in missionary position. This is the first time we get a good look at her shaved pussy. And we finally get to see those big tits bounce around! It then switches to a close up missionary view, and you really get to see those big titties in action! If you like big tits, you'll be in heaven here! This is where VR porn really shines!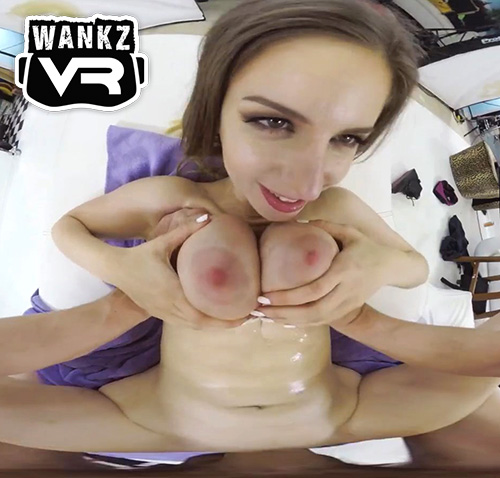 After a good amount of missionary time, you switch to laying down, and Stella climbs on top for some sixty nine action. You get a great view of her ass and pussy right in your face while she goes down on you. When she's got your cock good and lubed up with her mouth, she climbs on top of you in reverse cowgirl and rides you. I love watching her booty jiggle around while she's on top! She's really loving this position too!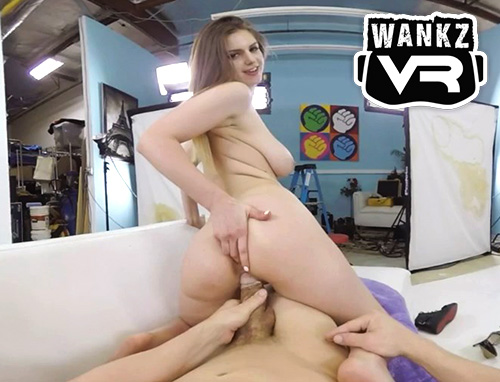 We get another short break from the action, as she spreads her legs right in your face so you can eat her pussy. The view here is great, and she's really loving it, but I could have done without the male talent spitting on her pussy a few times. It wasn't a boner killer by any means, but definitely took me out of the scene for a minute. That was until…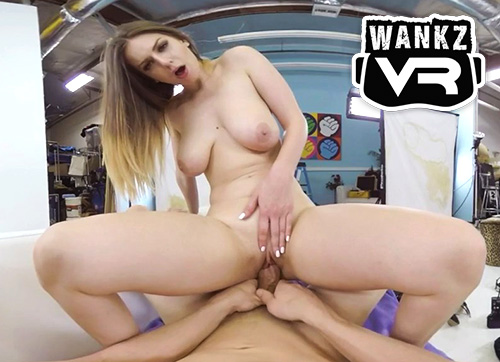 Stella Cox is on top and bouncing on your dick in cowgirl position! This is what I was waiting for! Those big boobs flopping around right in my face was amazing! Especially since you're really pounding her hard too! She's cumming hard now, and begging you to keep fucking her! I'm pretty sure that was a real orgasm too, as she's looking pretty spent now.
Still on top of you, she says she wants you to come all over her pretty face and big juicy tits. I probably should have mentioned earlier, but her dirty talk in that English accent is incredibly sexy! I could listen to it all day! She starts stroking and sucking you until you cum inside her mouth, then climbs on top of you and spits your cum back out all over her tits. Such a dirty girl! She even tells you to take some pictures of her big boobs all covered in cum!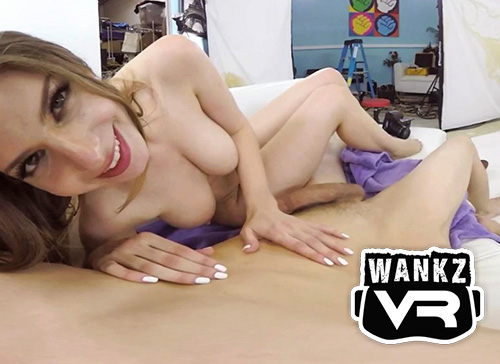 Conclusion
Another solid offering from WankzVR! Stella Cox is absolutely amazing! I don't know which is hotter, her big natural tits or that sexy accent. The whole photoshoot was a simple concept that worked pretty well. The sex in this scene was terrific, and absolutely worth downloading. You'll love this one!
Rating: