Aubrey Sinclair is a cute cheerleader with a naughty offer you can't refuse!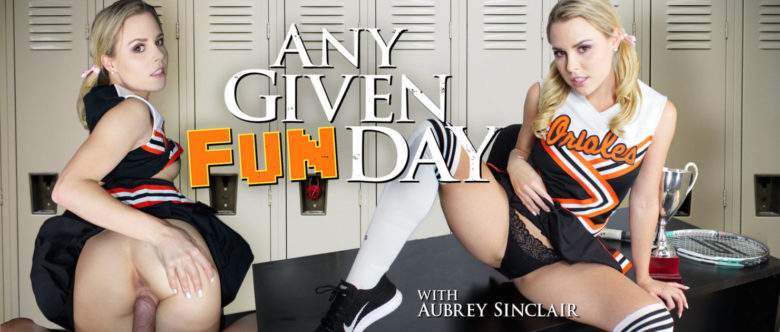 Any Given Funday
Starring – Aubrey Sinclair
Length – 49 min
Studio – WankzVR
Devices – Gear VR, Oculus, Smartphone, Playstation VR, Vive, Daydream
The Girl
Aubrey Sinclair is a pretty blonde cheerleader. She looks perfectly innocent, but quickly reveals her naughty intentions. She looks really hot in this scene, and the sex with her is phenomenal! I haven't seen her in any scenes before this, but I certainly look forward to seeing her again!
Virtual Sex with Aubrey Sinclair
The scene begins with you (a high school football coach) reading a note from "a very horny cheerleader" asking you to meet her in an old locker room on campus. We quickly see it's Aubrey Sinclair, a cute blonde cheerleader from the rival team! Her coach would kill her if he knew she was here, but she just couldn't stop thinking about you. Aubrey is looking so sexy in her cheerleader uniform, there's no way you can resist her!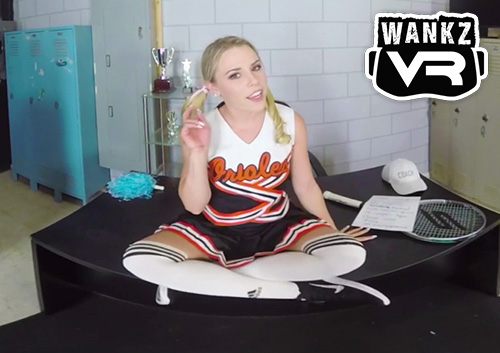 She twirls her pretty pigtails while telling you how angry her coach would be if he found out you touched her, and suggests it might even distract him enough so you can win the big game on Friday! As if you need any more convincing, Aubrey pulls up her skirt and shows you her sexy little black panties. Then her shirt comes up and you get a peek at her nice little titties, while simply asking "do you want to fuck me?"
I love how forward Aubrey is being here. She wants you to touch her, and is even sucking on her finger. She's definitely not the sweet girl she first appeared to be. She says she will definitely let you fuck her, but only if you promise to throw the big game on Friday! WTF? What a naughty little seductress! She lifts up her skirt and starts shaking her ass for you, and with that, your mind is made up – fuck the big game!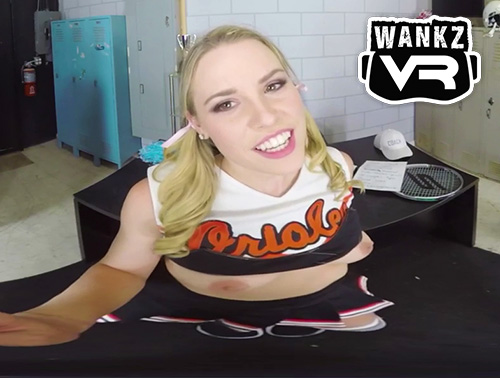 Next we change angles so her ass and pussy is right up in your face, and she wants you to have a taste. She starts moaning right away, she's loving it! She rubs her wet pussy while shaking her booty and even tells you to spank her. The view here is great, and I love that her black thong is still on, and just pulled to the side.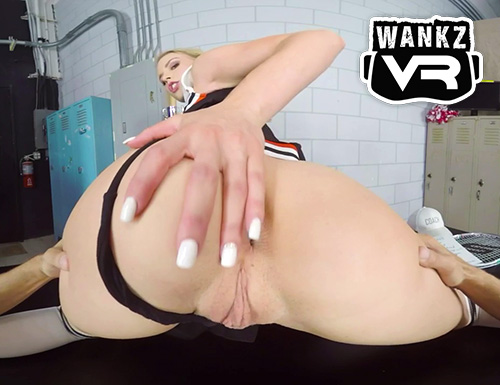 Aubrey turns around and we can get a better look at her pussy. She's sporting a full bush here, which is always a nice change of pace, especially for a teen cheerleader. Things are really heating up, and she declares "I need your cock now!"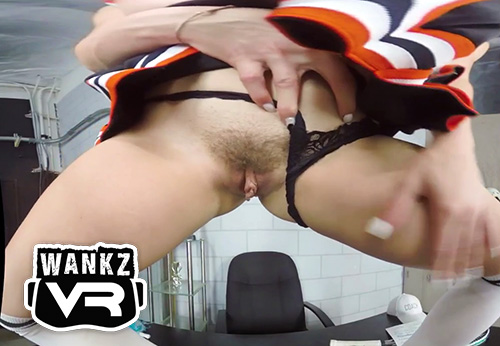 She spreads her legs in missionary position on the desk, and you slip your dick into her hairy wet pussy! Her cheerleader uniform and black panties are still on here, and it looks so fucking hot! You can really see just how wet her pussy is too, which isn't always the case in porn. Aubrey rubs her clit as you fuck her, while looking at you with her big beautiful smile. Since you're her coach, there's a whistle around your neck, which is slightly distracting. Still some great action here though, no doubt about it.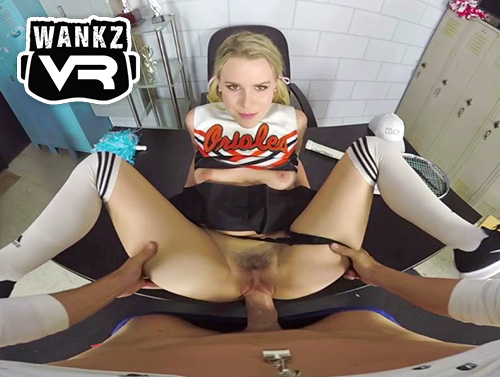 After she cums all over your cock, she wants to taste it! She gets on her knees and starts sucking you. She genuinely seems to love your dick and can't get enough! She's working very hard to make sure you forget about winning that game!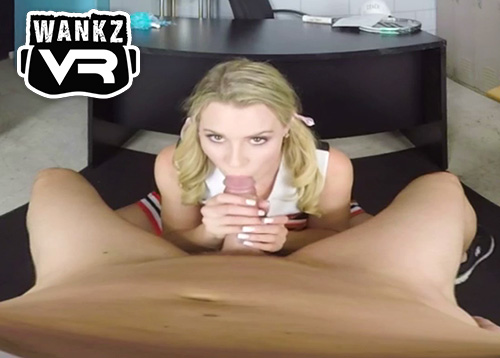 Now she's ready for more, and wants you to fuck her from behind! She stands up on the desk and bends over, giving you a nice view of her big booty and tight teen pussy! The camera quickly cuts to Aubrey laying face down on a mattress (where did that come from?), as she shakes her ass while waiting for you to put your dick in her. This position looks pretty good in VR, especially when she looks back at you over her shoulder. She also likes to shake her big booty while you fuck her, which is awesome! She's got such a great ass!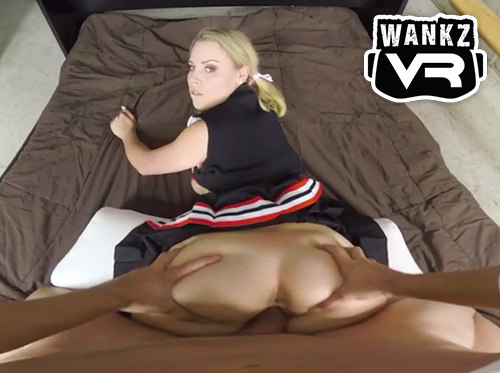 After a few orgasms, she takes off her uniform and sits on your cock in cowgirl position. I have to say that I really loved that she kept the uniform on this long. She looked really hot in it and it really added to the naughty cheerleader scenario. Now she's naked and bouncing on your dick, which looks great too! Some great dirty talk from Aubrey while she fucks you, she's such a dirty girl! She stops bouncing and starts grinding, I love watching her body move while she's doing this.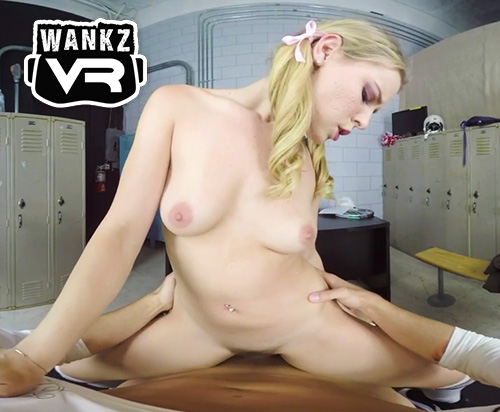 Aubrey wants to taste her pussy on your cock, so she hops off and sucks your dick. This just lasts for a moment though, then she's back on top riding you again. This girl is either a great actress, or she legitimately loves fucking you. I'm going with the latter. She then tells you to choke her while she's fucking you! So hot! This sweet innocent looking cheerleader is a hardcore kinky freak! Who knew?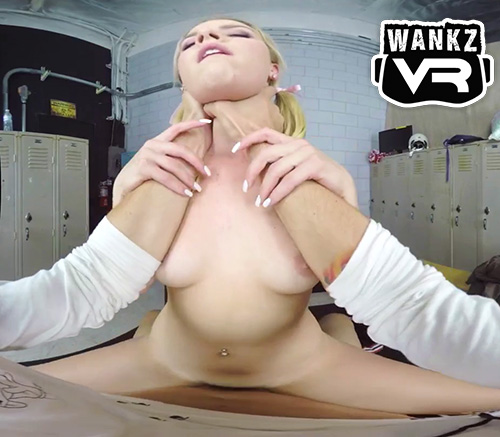 She gets off and turns around, sitting on your dick reverse cowgirl. Her ass bouncing around while she goes up and down on your cock is a beautiful sight. I could watch this all day! After some great action here, Aubrey reveals she wants you to cum all over her face!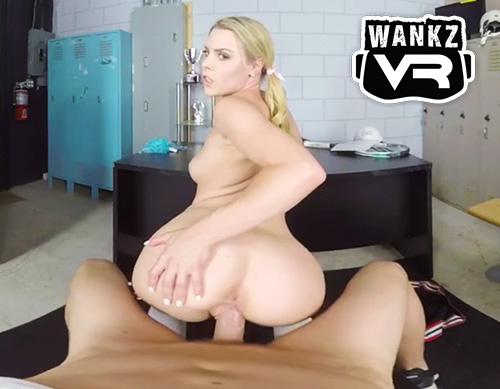 She climbs off you and gets down on her knees. She starts sucking and stroking your cock, until you blow your big load all over her pretty face! You even manage to hit one of her pigtails! She then smiles and tells you how much she loved fucking you, and it will be our dirty little secret. Agreeing to throwing the big game on Friday was definitely worth it!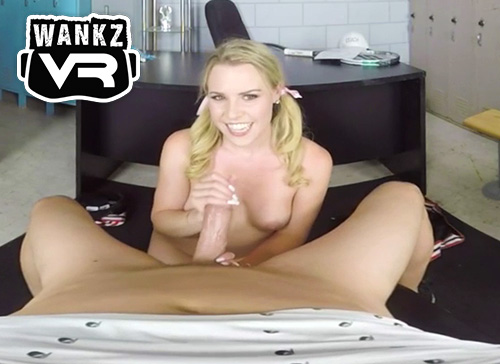 Conclusion
This was another hot scene from WankzVR. If you've ever had a fantasy about fucking a cheerleader, this one is for you. Aubrey Sinclair was amazing in this scene. I hadn't seen her in anything before this, but I am definitely a fan of hers now. She's cute, sexy, and definitely seems to love fucking! And that cheerleader uniform, damn she looked so hot in that! Book her again Wankz! This was a great scene overall, and the length was good too. Not too long and not too short!
Rating: