Gorgeous blonde Blake Morgan is looking for more than a tune up in MILF and the Mechanic from MilfVR!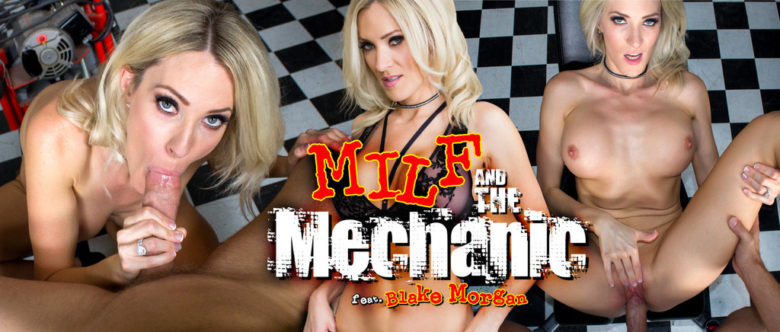 MILF and the Mechanic
Starring – Blake Morgan
Length – 54 min
Studio – MilfVR
Devices – Gear VR, Oculus, Smartphone, Playstation VR, Vive, Daydream
The Girl
Blake Morgan is a hot blonde MILF with a tight body and some big tits. They're not real, but for fake ones they look pretty great! In this scene she's dressed in a little black dress, with some sexy black lingerie underneath, which you'll get to see pretty quickly. Fun fact: this is also the first hardcore sex scene on camera! It is truly a historic day at MilfVR!
Virtual Sex with Blake Morgan
This scene starts out in an auto repair shop. You are a mechanic, and hot blonde Blake Morgan has just walked in to pick up her husband's car. She's so happy to see it fixed up and looking good. She really didn't want him to find out she wrecked his car. The only problem is, she doesn't really have much money. Right away she starts showing off her cleavage in hopes of getting a good deal. You can't resist her charms, and decide to have some fun with her. She is very persuasive!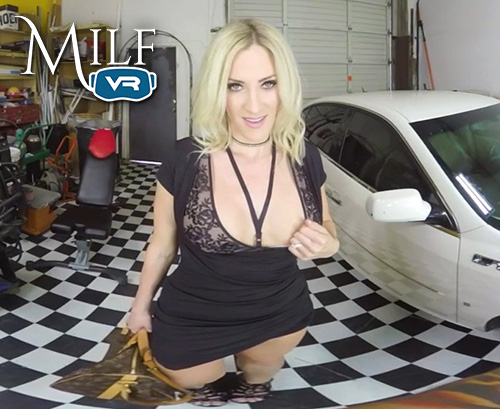 Right away she's rubbing all over you and dirty talking. She is so hot! That dress comes off next and she's got on a very sexy black bra and panty set! This hot wife is ready to play! She takes out her big tits so you can rub and squeeze them. I love that you get to see the shiny wedding ring on her finger while this is going on – so hot! Blake Morgan is really being forward here. I'm starting to suspect this isn't the first time she's cheated on her husband!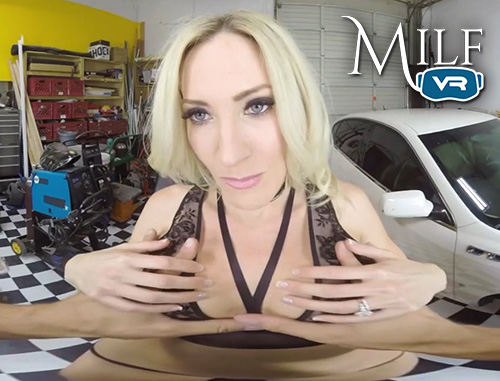 Quick cut and you're sitting down. She undoes your pants and pulls out your big dick and starts sucking it. It's true what they always say, MILFs give the best blowjobs! She even puts your dick between her big tits, though it's just for a few seconds. I would have loved to see more of this. A bit more cock sucking, and then she turns around and slips off her g-string and sits on your dick! Blake Morgan has a great ass btw!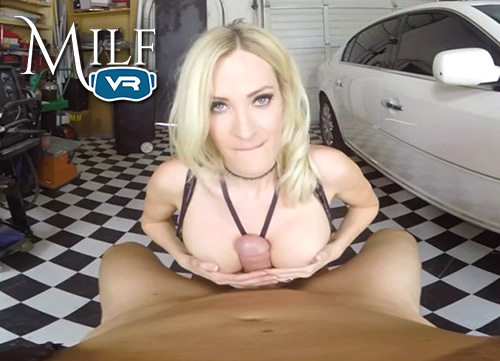 She's bouncing on your cock in reverse cowgirl now, and she really seems into it. Any time you get a genuine performance in VR porn, it's so great! After a few minutes she gets off and sucks your dick again for a moment, then she's back on top of you, this time sitting sideways. You get a great view of her pretty face while she rides you here. This is one gorgeous MILF!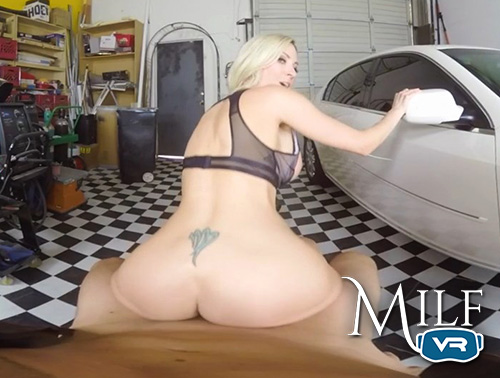 Now she's facing you and riding you cowgirl, and here you get to see her big boobs bounce right in your face. Damn I love VR porn! This has her cumming on your dick in no time! We get her bra off here and now she's completely naked. I don't mind at all that she kept it on up until now, it was pretty sexy, and her tits were still exposed. Blake Morgan has such a great body too, and you get a great look at it in this position. She's definitely a trophy wife in this scenario. She's rubbing her clit while she rides you. Oh look, she's cumming again!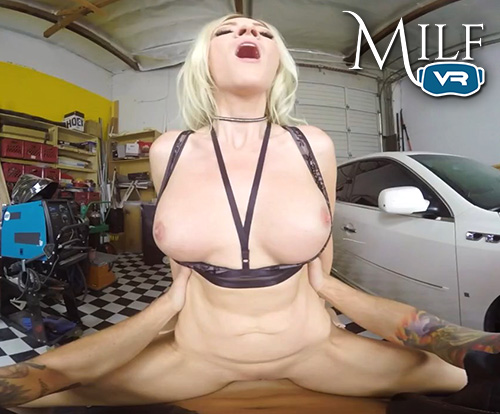 Time to change things up. Blake gets on all fours, and her ass and pussy are right in your face. Time to eat some MILF pussy! She spreads wide for you, and really loves the way you work your tongue on her. Lots of moaning here, right up until she cums! Well done!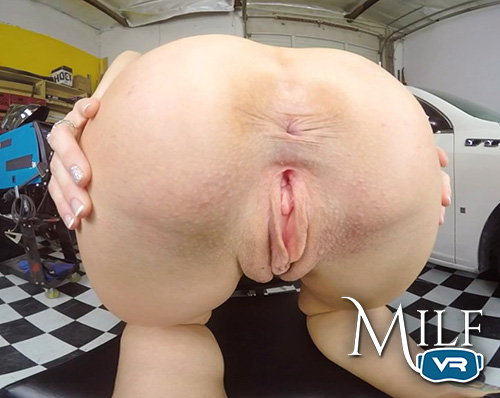 With Blake Morgan still on her knees and wanting more, you start pounding her doggy style. This cheating housewife just can't get enough! After a bit you're pulling her hair and slapping her ass as you're fucking her, and this really turns her on! She needs a quick break, so she puts your dick back in her mouth.
Next up she's laying on her back with her legs spread wide. She wants more of your big hard cock. So great to see her pretty face as she's rubbing her clit and begging you to fuck her! You're pounding her pretty hard and fast, which gives Blake a few good orgasms. Now it's your turn, you pull out your cock and she jerks you off as you cum all over her stomach and tits.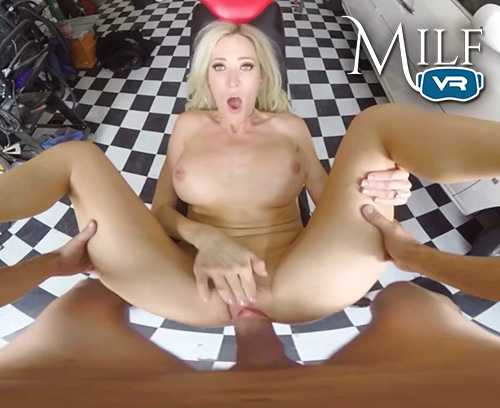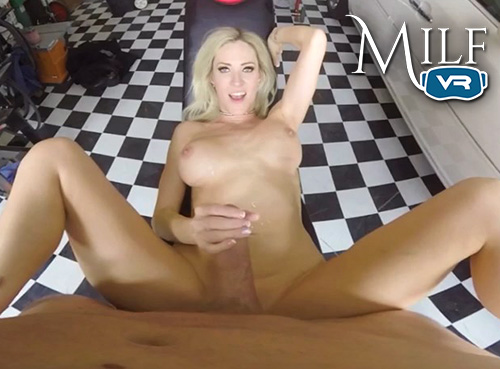 She poses for a bit, showing you her sexy ass, and big titties. Blake says she'll definitely be back soon for an oil change, and she'll mention you to her friends! Safe to say she is one satisfied customer!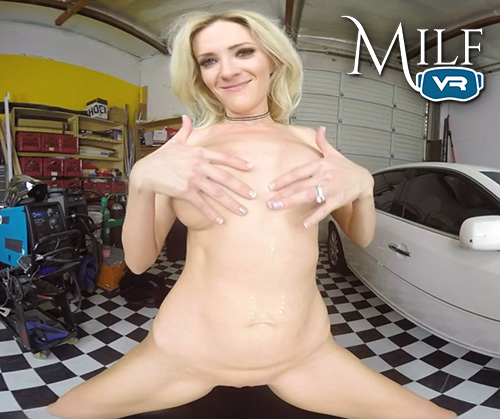 Conclusion
This was a fun watch. Blake Morgan is perfect in this cheating housewife role. She's a decent actress, and the sex action seemed pretty genuine. While this wasn't a mind-blowing scene, it was a solid effort from start to finish. Not to mention this was not only Blake's first VR porn experience, but her first hardcore sex scene on camera. You'd certainly never now watching this scene, she comes off as a total pro. I look forward to seeing more from her. I bet her scenes get even better!