Elena Koshka is the best girlfriend ever in this incredible new virtual sex scene from WankzVR!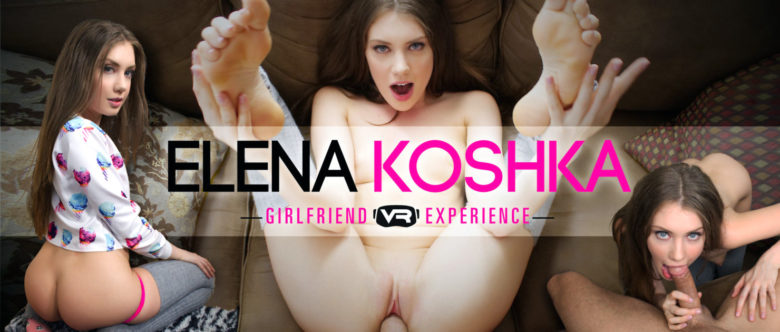 Starring – Elena Kosha
Length – 66 min
Studio – WankzVR
Devices – Gear VR, Oculus, Smartphone, Playstation VR, Vive, Daydream
The Girl
Elena Koshka is tall, skinny and absolutely gorgeous! She is sexy as hell, but can also be adorably and playful too. She's not usually my type, but her performance in in Model Misbehavior with Nina North was just so hot, I couldn't wait to watch this one! She's a great actress, but the sex in this scene will blow you away!
Virtual Sex with Elena Koshka
The scene starts off with your beautiful girlfriend Elena Koshka in the shower. She puts on a little show for you while you watch. She's looking amazing of course, her wet naked body is so sexy! You don't see shower scenes in virtual reality much, but I really enjoyed watching Elena get all wet and soapy. Very hot!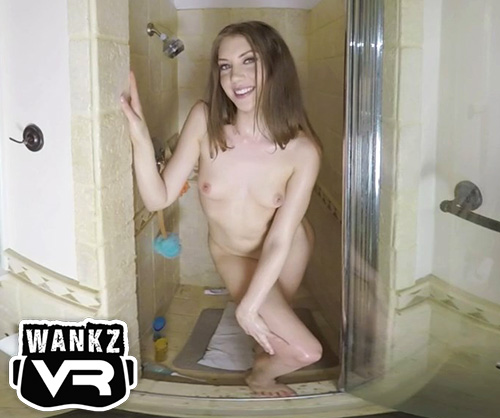 Next you're sitting on the sofa, and Elena comes out in some sexy pink panties. It turns out she doesn't have any clean clothes to wear, because you didn't do the laundry. She's not too happy about this, and she lets you know it! The acting here is pretty good, and I suppose the nagging does add to the realism of the "girlfriend experience". I wasn't a huge fan of this part, but if you're high on realism, you might dig it. It only last for a minute or so.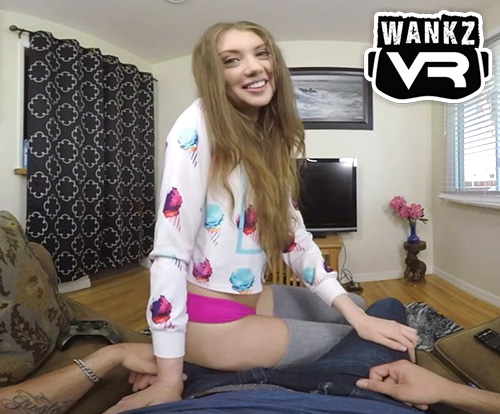 Luckily your girlfriend isn't too pissed at you, and she admits to still being horny from putting on her shower show for you. She climbs up on the sofa with you and starts rubbing herself over top of her panties, and even gives you a little peek at her perfect shaved pussy! She then pulls out her favorite vibrator and plays with it a bit, which is a great visual in VR.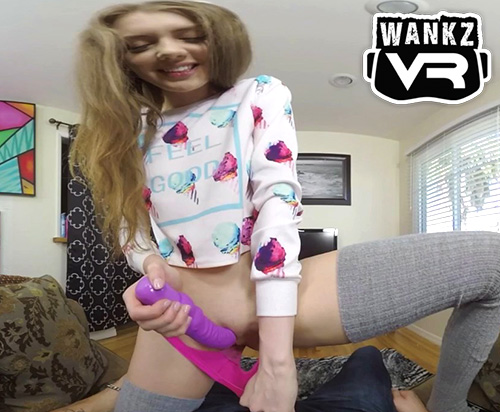 Now it's time for those panties to come off! She bends over in front of you, and now it's your turn to use the sex toy on her! She's really liking this, and is even grinding on you and rubbing her clit while you fuck her with the toy. You can really here how wet she is too. I love it! After that, you get a chance to taste Elena Koshka's perfect pussy! Seeing it spread up close is a beautiful sight. Damn I love VR porn!!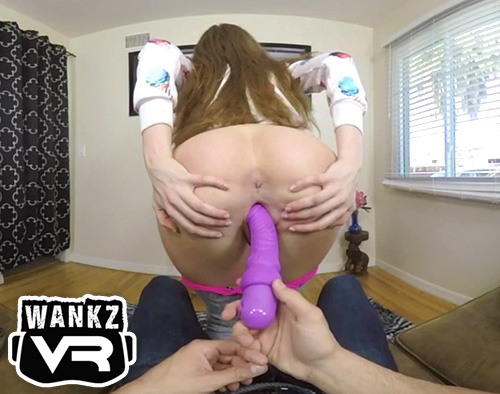 It's your turn now, Elena pulls out your dick and starts sucking it. She looks at you with those big beautiful eyes and makes you promise to do the laundry after this is all over. Who could resist? She takes off your pants and her top, so we get to see those perky titties again. She really loves playing with your dick, it gets her so horny!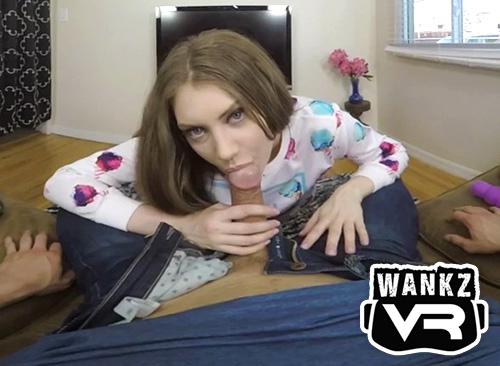 She just can't wait anymore! Elena turns around, bends over and sits on your dick. She then starts bouncing on it, and she's moaning right away. Lots of great wet pussy audio here. Her pussy is a tight fit for your big dick, so she hops off and spreads her legs so you can get her a little more warmed up. You start fingering her pussy with 1 finger, then 2, then 3! That gets her stretched out a bit, and she climbs back on you and starts riding you again.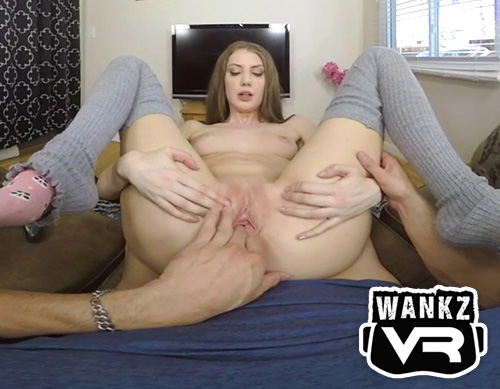 This time she's facing towards you, so you get a great view of your dick going inside her. After just a moment of riding you, she cums! She really loves your big cock! After a second to catch her breath, she's right back to riding and grinding on you. After a few more minutes she's cumming again, and this time even squirts a little! Wow!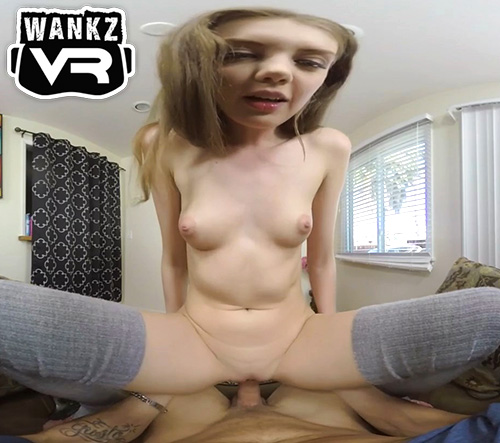 She takes a quick break here, sitting back and rubbing your dick with her feet. This didn't do much for me, but if you're a foot fan I'm sure you'd love it. She does have nice feet. She then starts jerking you off with her hand while rubbing and sucking on your balls. Elena is such a great girlfriend!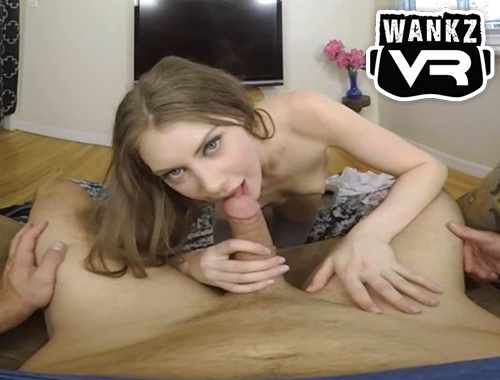 Now she's back on top of you, riding you for a few seconds before climbing off and getting a taste of her pussy juice on your dick. She sits on you again, this time sitting sideways. You can really see how perky her tits are here. She's grinding all over you cock again while she rubs her clit. She turns around facing you again, and it's not long before she cums and squirts on you again! That's 3 orgasms so far! She puts her pretty pussy right in your face so you can have a taste!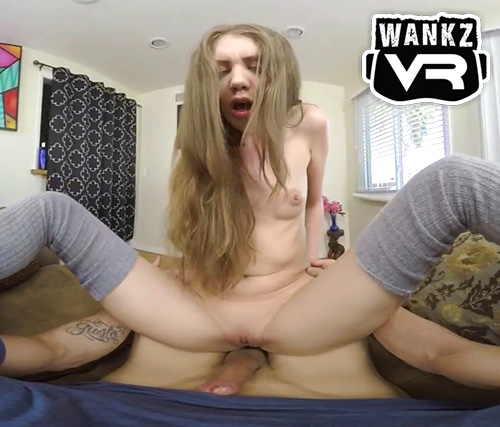 Elena then bends over on the sofa so you can fuck her from behind. Damn she really seems to love doggystyle! It doesn't take long before she's quivering from her 4th orgasm! Elena Koshka is so fucking good in this scene. She can't stop saying how much she loves you and your cock, while staring back at you with those beautiful eyes.
Still in doggy position, she demands you keep fucking her and even cums again! The fun doesn't stop here though, the speed picks up and you start pounding her harder. She's moaning like crazy and has yet another orgasm! That's 6!
She gets down on her knees and sucks your dick again for a few minutes. She's ready to go again and lays down on the sofa, spreading her legs. We switch to a close up missionary position, which is something that WankzVR does very well. You can't see everything at this angle, but it's very intimate, especially with Elena Koska. I could stare at her gorgeous face all day! You really pound her good and she cums again! Lucky 7! Watching her face up close as she is having a very real orgasm is probably the hottest part of this scene! Well done!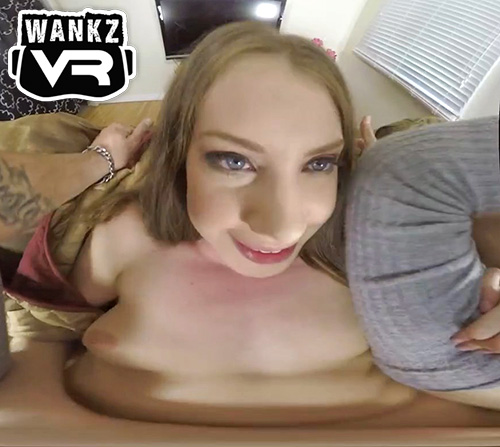 We switch to a normal missionary angle and you can now get a great look at your dick fucking her. Elena queefs a few times here, but she's a cool chick so she just laughs it off and you continue fucking. She has another squirting orgasm, which shoots right up towards your face. Wow! Now that's hot!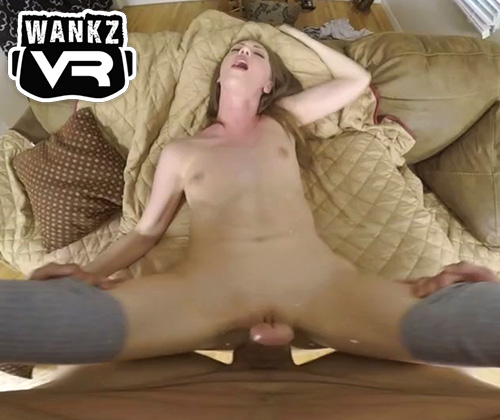 Still going, she's begging you to fuck her harder! Pretty sure she cums again here, which would be the 9th time! Damn! She is absolutely loving it here, and I'm certain she's not faking it. This is as real and genuine as it gets folks! Oh look, she just came again!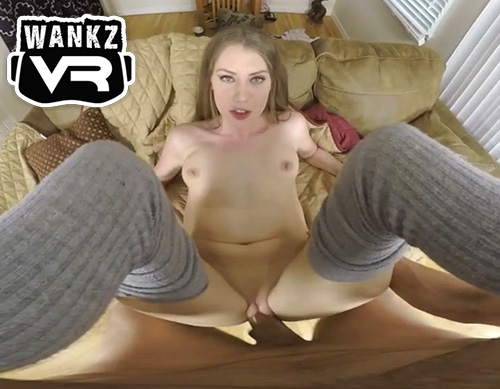 Now Elena wants you to cum, and she wants you to cum inside her! She's begging for your cum inside her pussy! After you finish and pull your dick out, she plays with her pussy a bit while you watch. She looks exhausted, but very satisfied. If I counted right, she came 10 times. That's incredible. VR porn is the fucking greatest!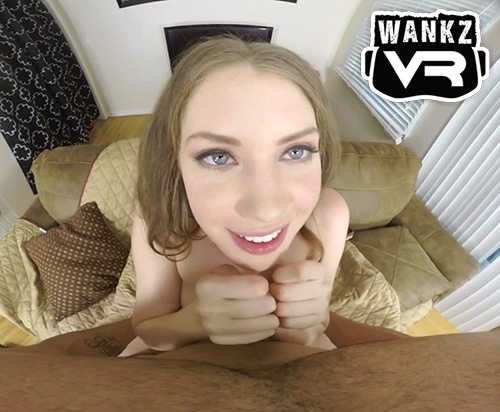 Ok now go do her laundry!
Conclusion
This scene was absolutely incredible! I'm honestly upset I didn't watch it when it first came out. Elena Koshka is the perfect girlfriend, and everything from the shower show to the sex was even better than I imagined. I can't believe how many times she came! I can't recommend this scene enough, it's easily my new favorite VR scene! Well done WankzVR!
Rating: