Your sister's hot friend Whitney Wright discovers your VR porn headset and insists on trying it out. Virtual sex gets her so turned on she must have the real thing!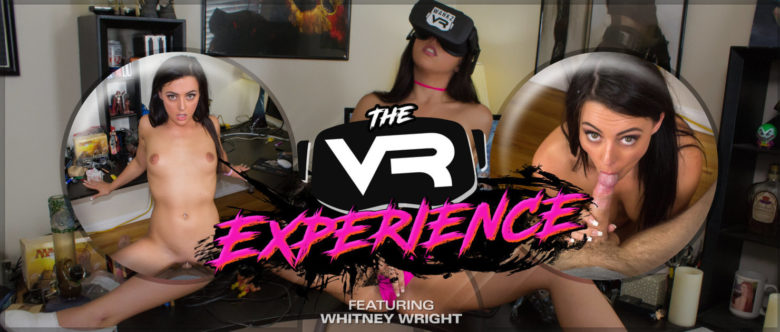 Starring – Whitney Wright
Length – 52 min
Studio – WankzVR
Devices – Gear VR, Oculus, Smartphone, Playstation VR, Vive, Daydream
The Girl
Whitney Wright looks the part as your sister's hot friend. Under her casual clothes is a great ass in a sexy pink thong! She really nails the "girl next door" look, but luckily she's not as innocent as appears at first. I haven't seen her in anything before this scene, but I'm definitely a fan of hers now!
Virtual Sex with Whitney Wright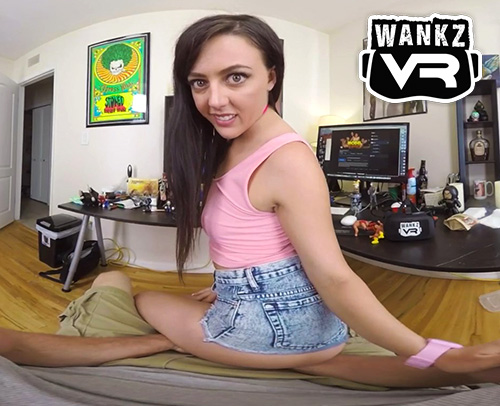 Today's VR adventure starts as your sister's hot friend Whitney Wright comes into your room. Since your sister isn't home, she starts poking around your room checking out your "collectibles" (toys). She notices you've got a WankzVR virtual reality headset on your desk, and asks you if she can try it out.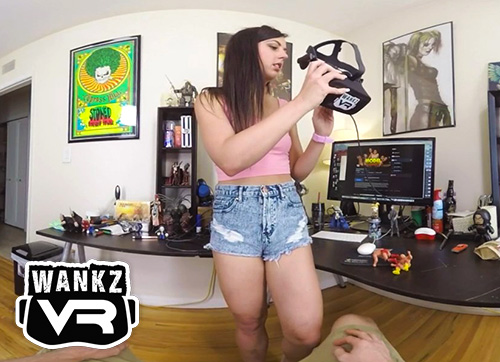 You set it up for her, and right away she seems into it. From the computer screen beside her, it looks like she's watching Model Misbehavior, one of our favorite VR porn scenes! She even starts touching herself a bit while she's watching! She starts rubbing your crotch with her feet, as she tries reaching out and touching the virtual hot girl in front of her. That VR porn video got her turned on in record time!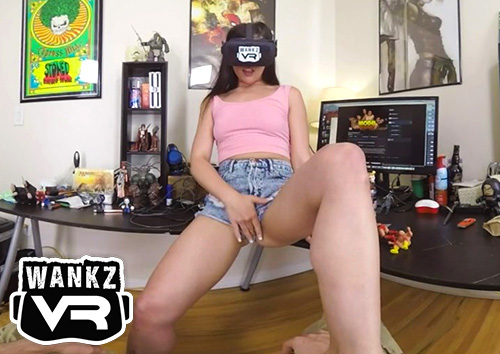 She takes off the headset and pulls down her shorts, showing off her perfect ass in a hot pink thong. She starts grinding her ass on your lap as she tells you how horny she is. She gets up and locks your bedroom door and sits back down. She pulls her panties to the side and starts rubbing her smooth shaved pussy while you watch.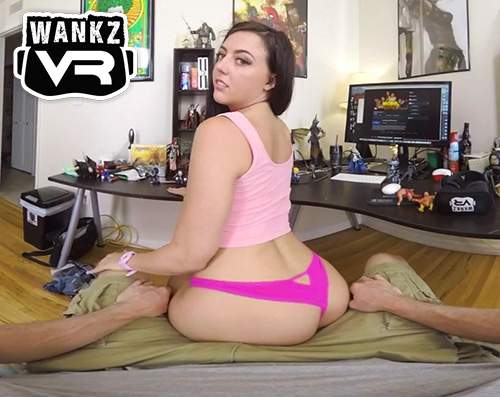 She wants to finish watching that VR porn video she loved, and she pulls up her top so you can see her titties while she watches. This time she's got both her legs spread wide up on your desk, and you get a great view of her playing with her pussy! She invites you to get up close, and now you've got your face burried in her wet pussy!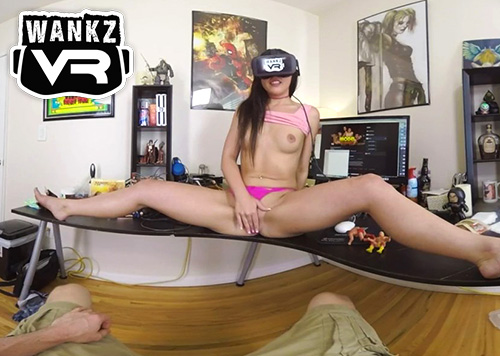 Whitney is moaning like crazy now, she loves you licking her pussy while she watches porn! Seeing her play with her nipple while you devour her pussy was a real treat! She thinks it's so hot that your sister could walk in and catch you two at any second! After a few minutes of you going down on her, she's cumming right in front of your face! That was so hot!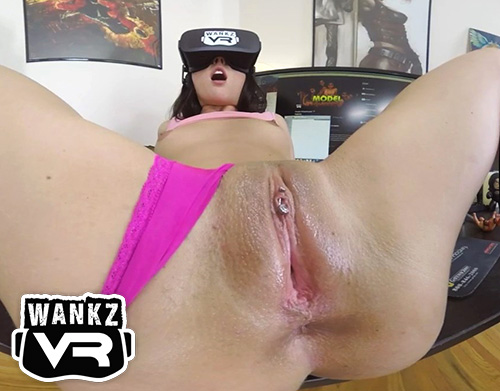 She's not done yet, she's just getting started. She wants your dick so bad. Turns out she's fantasized about it for years! You're more than happy to comply, and in the blink of an eye (a quick cut), you're standing up and sliding your dick inside her tight wet pussy! The view of her here in missionary is great, and fucking her on your computer desk is pretty awesome! She's loving the sounds of you pounding her wet pussy and is begging you to keep going. It's not long before her eyes roll back in her head and your sister's hot friend is cumming all over your big dick!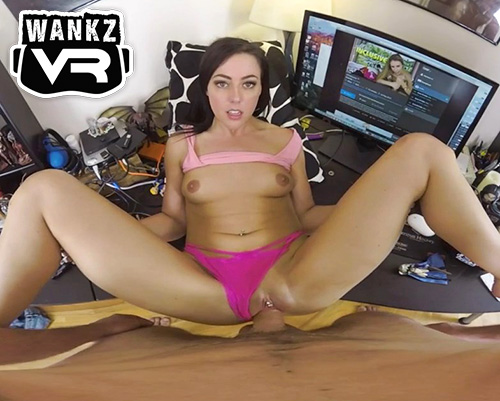 The fun continues with Whitney Wright still in missionary position. You're pounding her pretty pussy again while her little tits bounce around. Next the camera switches to a more close-up missionary view, which is something the WankzVR crew does really well. It's so sexy to see the look of pleasure in her eyes as you fuck her!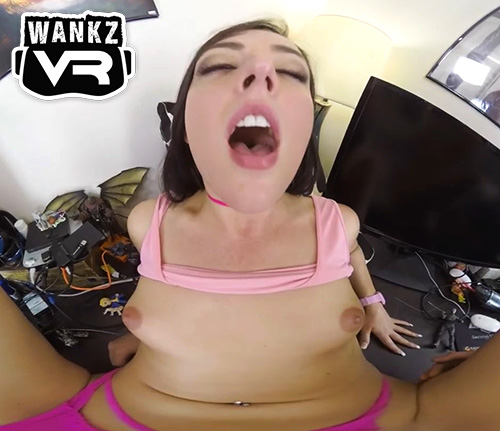 Next up Whitney bends over and you get to fuck her doggy style! She's got a great ass so right away I was loving this view! She was loving it too!, and was cumming again almost right away! You keep going though, as Whitney looks back at you with her cute face and pretty eyes as you continue to pound her and pull on her hair. Whitney Wright can certainly take a pounding! Who knew your sister's hot friend was such a nympho!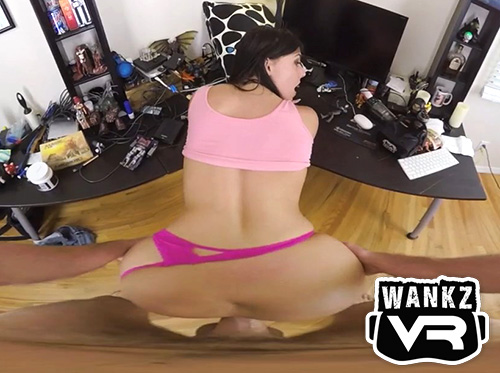 This horny teen still can't get enough, she puts one leg up on your desk so you can get inside her even deeper. You can watch her ass jiggle and shake as you're fucking her, and it looks awesome! She's also got the sweaty sex hair going at this point, which I love!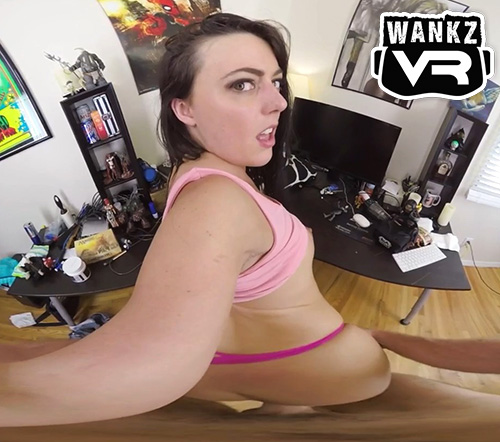 Now she wants to taste her pussy on your cock, so she gets down on her knees and starts sucking you. She really gets into this and seems to love sucking your dick! Lots of great eye contact here, especially while she's trying to deepthroat you!
Then Whitney takes off her top and goes to stand up, and hits her back off the desk. She giggles a bit, but doesn't break character and keeps going with the scene. What a pro! She then slips off her thong, and you've finally got your sister's hot friend naked in your bedroom! She climbs on top of you and guides your dick into her wet pussy, and grinds her clit all over you!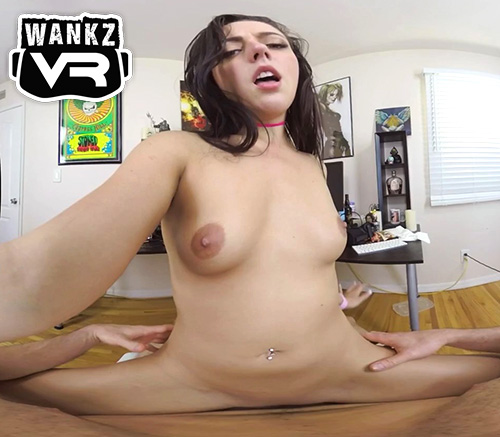 The view here is great, cowgirl is definitely my favorite VR porn position! She's really moaning as she's grinding all over you. No fake shit here! She has another orgasm here too, I just love watching her cum!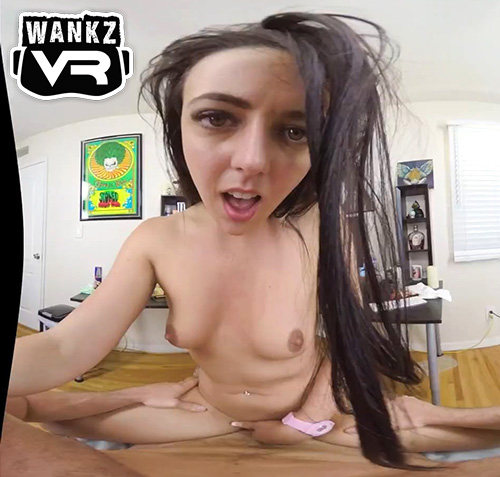 No stopping now, Whitney Wright still hasn't had enough! She says she loves how deep your big dick gets inside her! You can really hear how wet her pussy is, and that's such a turn on. Whitney is ginding away on you, while telling you how much of a turn on it is to fuck her friend's brother. Right after that she has another big orgasm!
Whiney climbs off and turns around, riding you reverse cowgirl now. Lot's of wet pussy noises here in this position, and it's a great opportunity to stare at her sweet ass some more. She's really working up a sweat now, which really adds to the realism in this scene!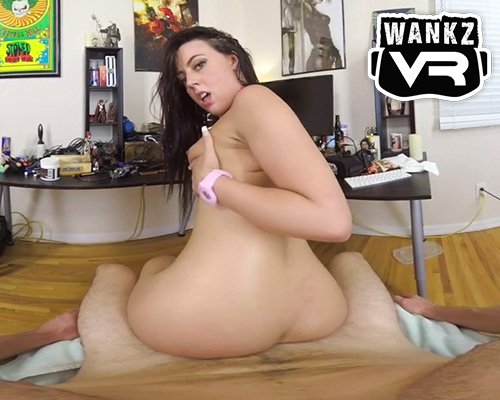 After cumming again, Whitney Wright gets down on her knees and starts stroking your dick. She tells you she wants you to cum in her mouth and starts blowing you again. You really end up cumming all over her hands and the outside of her mouth. It would have been nice to see you cum in her mouth and have her swallow it, but watching her lick it off her hands was pretty hot too.
After agreeing not to tell your sister about this, Whitney gets up and starts rubbing her wet pussy again while telling you to get some more VR porn for her to jack off too. That's some great advice! She grabs her clothes and heads for the door, but not before giving you her panties to keep. Now that's hot!!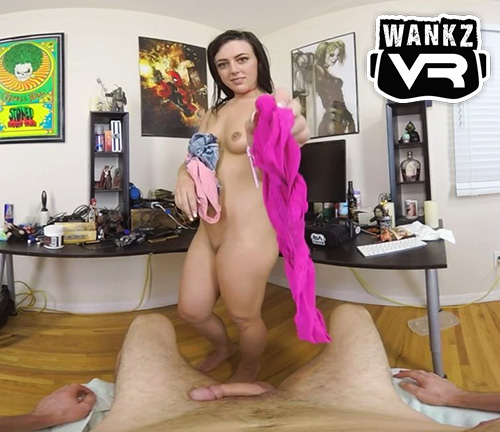 Conclusion
This was a solid scene. I love the concept of fucking your sister's friend in your bedroom. Whitney Wright pulls off the naughty teen look well, and her performance was mostly good. There were a few instances of her looking off camera for direction, but that's a nitpick. As far as the sex goes, it looked awesome and she genuinely seemed to love it, and that's what really matters. I would recommend this scene, and I look forward to fucking Whitney Wright again in her next VR scene!
Rating: